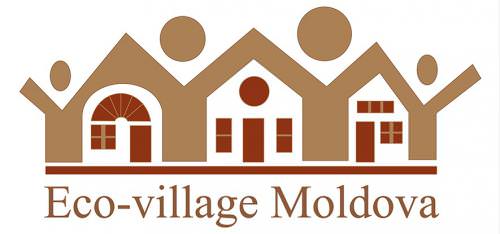 We are a diverse group of people, striving for a more sustainable lifestyle and committed to building an organically evolving eco-community in rural Moldova. An important aspect of our community is a social and educational focus.
Since 2014 we've built a residential eco-house for the first 2 pioneer families living on site and a straw-bale common house for public events and small-scale trainings (up to 25 participants). Two families are trying the co-housing model on site and another family built a wooden house with a thatched roof in the neighborhood. We hope these pioneer families would become an 'anchor' and a resource for future members interested to join and develop Eco-village Moldova. With that in mind, we are investing in public spaces for common activities and in organizing training events. In 2015 we've organized a number of organic gardening and eco-construction workshops, as well as hosted interns and volunteers interested in sustainable lifestyle and community-building.
In 2016 we plan to build the Environmental Training Center (low or zero Carbon) with a capacity to host trainings for up to 50 participants at a time. Built from natural materials (wood, reed, clay, lime), the Center would have a big training room, dining area, well-equipped kitchen and some accommodation facilities for training participants and volunteers. Here we will hold practical workshops focused on environmental awareness and action, natural construction, eco-system restoration, and community building.
As more families decide to join, our concept of community will be expanding to include more co-housing units and members living in eco-homes spread throughout the neighboring village, but sharing similar values and principles. For the cohousing units, we aim at small, but comfortable, energy efficient, affordable homes, built from natural materials with extensive shared facilities for adults and children. We are also trying to incorporate principles of permaculture in designing the green spaces between houses.
In parallel with design and construction, we're still working on our group cohesion and developing internal structures and processes.
Some of the photos below are from one of our site visits during the summer of 2013. The others are from our experiments in eco-construction materials.
Primary interests: Social (Diversity & Cohesion, Health & Healing); Culture (Nature Connection); Ecology (Green Building, Renewable Energy & Transport); Economy (Sharing & Collaboration)
Site content by EcoVillage Moldova
Ecovillages
Region: GEN Europe
Language: English
We are a diverse group of people, striving for a more sustainable lifestyle and committed to building an organically evolving eco-community in rural Moldova. An important aspect of our community is a social and educational focus. Since 2014 we've built a residential eco-house for the first 2 pioneer families living on site and a straw-bale common house for public events and small-scale trainings (up to 25 participants). Two families are trying the co-housing model on site and another family … Read more