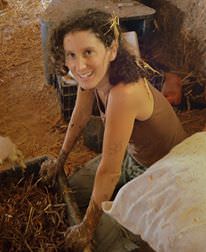 I am interested in a comprehensive approach towards sustainability, which includes linking the human rights movement with the sustainability movement.
Recognizing that sustainability is not only about the way we treat the Earth, but also the way we relate to each other: to our children, our community, and every human being on this planet.
In the past decade, I have been exploring this link through my community work and human rights work and activism, through my parenting and everyday practices (nutrition, energy consumption, etc).
I am the co-founder of "Meshek 43" - a Community Eco-Centre in Shdema village, Israel, where I share this journey and experimentation with other amazing, dedicated people.
Furthermore, I work with schools, communities and organizations to develop Nonviolent Conflict Transformation skillsand tools, see www.nonviolentconflicttransformation.org.
I am excited to be part of this global network and look forward to cooperation and co-learning!
Site content by Efrat Wolfson
Ecovillages
Region: GEN Fertile Crescent
Languages: Hebrew, Arabic, English
We are a group of families and individuals, dedicated to creating a more sustainable way of life - together. Together we experiment with creating alternatives for the existing paradigms, in all spheres of life: communication, parenting, building, economy, renewable energies, food production, nutrition, health and more... Together we allow ourselves to make mistakes, to get confused, to get back on our feet and try again... We are building a Community Eco-Center and Food Forest on a 5 acre … Read more