Nude Ape Community
I had the Idea of planting a new paradise at the age of 7 years I became Mechanic, Mechatronic Engineer and organist, I'm Misik-Kinesiology Practitioner and -Instructor, I visited Sepp Holzer at his Krameterhof, Ecovillage 7Linden and Kinder der Zukunft in Portugal. I went to the Philippines in 2008 and started to develop a piece of land with permaculture principles and applying Biodynamic. I make Artisan Coconut Oil and want now to establish an Ecovillage on the land I partially developed.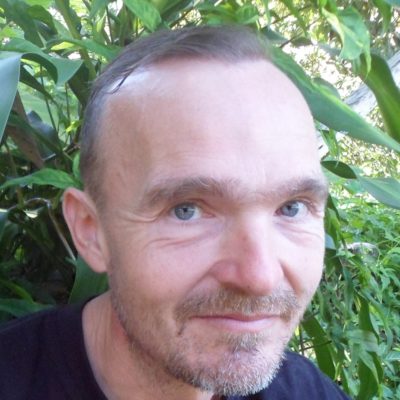 About Changes and real Changes: At the age of 11 to 12, I observed that my classmates changed. They joined to groups in which they discussed and planned how to meet girls. Just the year before if they would have seen a boy talking with a girl, they would have called him "Wieberschmecker" which means that he likes women and was used as a invective. It changed from one school year to the next. They made appointments with the girls by throwing a ball of crumpled paper with their message to the girl when the teacher didn't look. There was written like: "Lets meet this afternoon at 2pm at the bridge near the old mill in Ebersweier." I was not there and so I don't know whether the girl went there alone or also in a group with other girls. They also got interested in hits/pop songs and their behavior changed. It was as if they were acting and it didn't feel sound to me to change just to belong to one of these groups. If I think about it now, I believe that the "Wieberschmecker" behavior before was also acting. Somebody must have told them to stay away from the girls and if somebody is mingling with a girl call him "Wieberschmecker". Then there are few told like this and among them are those with the biggest mouth and everybody was following. At that time, I thought, they are really like that because I always aimed to be the real I and I expected this from the others as well. It was just recently that I realized that people are acting for a political purpose like to get this or that and some are really good in that. I had a girlfriend from the city since I was born. Our parents made us meeting frequently and because of this "Wieberschmecker" I didn't want to invite her to my children's birthday celebration after grade 4. My parents invited her in spite of that and I ignored her. This was the end of our relationship. And then after the great vacation suddenly everybody was a "Wieberschmecker" only that the invective was forgotten. Somebody again must have told them that now are the time where you should exercise how to get engaged with girls and this is how to do it. I was not exposed to this kind of influence. It's the adjusting to what personal authorities or experts are telling which makes people dependent like hanging in the foggy air on those personal authorities and experts. I adjust only if I really understand why or if I'm forced or like trapped and don't have another chance. In the latter case I look for ways to get ground back under my feet. I always try hard to be faithful to myself and stay or come back into reality. Anyway, my freetime was limited as I had to practice playing Piano 1h per day, go to piano lessons and Children's Choir in the nearby city each once a week. My education at home was also very strict. It made my head spinning because there was a stress potential between what I should do and what I wanted to do. I should do my assignments and I wanted to go out playing with other kids and exploring nature. Because my head was spinning, I had a hard time ti concentrate on my assignments because I was lamenting why I have to do this first instead of going out as long it is day time = going out time and do my assignments in the evening. Later I said that I have already done my assignments but this was not true. Then I went out to meet my friends. During that time, I sometimes went up in the morning at 3am – I have heard my father mentioning something like that. – and did my assignments. And I finished them fast and easy so that there was still time for continuing sleeping. My school education led me away from my first Idea of planting a new paradise even so I always liked to become an agriculturist but the farm of my grandpa was too small to make a living from it alone. So after school I followed the suggestion of my father of becoming a mechanic. He said: "steel educates." I had a book with 400+ descriptions of professions and there wasn't one which I really liked. Often times I even didn't have an idea or understanding of what I would have to do and in what kind of environment I would have to work. Just recently I have read the book "The Shariyat · Ki · Sugmad" and it has the first description of a profession I like: It's being a coworker of God. After my education as a Mechanic I joined the contest "Jugend musiziert" with the piano and one year later with the grand organ. On the latter I reached out to the national round. Seems all this influences which drove me away from planting a new paradise came to light during that time: It seemed, I had a hard time performing in public. "It seemed" because there was more: I was turning 21. In the series of 3 competitions of "Jugend musiziert" I played best in the first one. There the organ was hard to play but relyable. A costudent of my organ teacher told me that she would assist me in the following round if I win the 1st one. She did and also accompanied me to the national round. She must have noticed that there must be some load on my soul and when we shortly after joined a seminar with my organ teacher, she opened up with what she had noticed. And I tried the 1st time in my life to express, what's going on inside me. Shortly after that there was an intensive course of my education as a church musician. I was assigned to play the postludium of the final mass of that intensive course. I wanted to play one of the pieces which I had prepared for "Jugend musiziert" but the titular organist of that church said that this would be beyond my competence. I wasn't able to handle that insult and when I played the easier one instead, I failed audible for everyone. That made me also feeling bad and a nun from my local course took me aside later and asked me, what's going on inside me. I again tried to express myself. She later invited me to visit her in her convent to further analyze what's wrong/bothering me and to give me a new directive. I often times went there thereafter.
Also my mother had noticed something and her birthday gift for my 21th birthday were 2 seminars in "Alexander Method" for musicians. I wasn't that happy about it because it came from my mother and there was some stress in our relationship. I red books about the Method and joined the seminars wholeheartedly. Alexander discovered through self-studying on his own body that a false use of the own body leads to several issues. He had the issue that his voice collapsed when he was performing publicly. He developed a Method to enhance the perception of our bodies and I really noticed changes in my body's stature and movement by further applying his method. After 5 years I didn't notice further development but still believed by further applying it, I would solve all my issues.
It was after my (organ)teacher had invited me to meet him in the church where I usually had my organ lessons before. It was on "Christ Resurrection" 1995. There he told me that he wants me to make a Diploma in playing the grand organ. One year later my mother's birthday gift were the first 2 seminars in becoming a "Music Kinesiology Practitioner". I again didn't like to join because I thought I am already OK with the "Alexander Method" and because it was a directive from my mother. I again joined wholeheartedly and with full respect to the ones conducting the seminars. What they explained during the introduction of the seminar was an eye opener for me. I really immediately understood what they were talking about. They were talking about me. From them I know the "Cave Parable" (Google it!). When we started applying the Method on each other, I was able to notice the changes in my body it performed. I was able to easy perceive the changes because of my experience with the Alexander Method before. – Basically it's all about releasing emotional stress, created through a non-realistic perception of ourselves caused by our similar non-realistic believe system which we developed to survive situations in which we experienced physical and/or psychological force or violence. Through applying "Music Kinesiology" we are guided to creatively use the options we have gained in the meantime to deal with the situation and to integrate the found solution into our behavioral repertoire. In short: It's about becoming again the original I. During that time I still studied Mechatronic Engineering. Parallel I continued my Education as a Music Kinesiology Practitioner and the Studies in Organ Interpretation. I applied the Music Kinesiology around 100 times to balance the stress related to performing in public and learning playing the organ. During preparation for my 2nd exam my organ teacher once told me: "I kick you out!" I really had a hard time learning to express the Fuge from Praeludium and Fuge in E-Mayor of J.S. Bach according to its character. Through intensifying applying Music Kinesiology especially for that piece and practicing organ playing, I was able to finish the 2nd exam better than the first. For the last exam I took even more time. Stress balancing includes performing any beauty art even if one isn't an artist. So I painted all my notes and prepared them for my final exam. When my teacher saw them he asked: "Are you going to play from this Notes?" I replied: "Yes." He left me for 2 hours in the church in Paris where the exam would happen. Then he came back to listen to my program. Also for me this was the first time playing from the painted notes. After my teacher had heard my program he said: "You've never been inside the music like this before. And I was also amazed by myself because this was also my feeling and it felt damn good. I was so amazed that I started like automatically dancing to the music the next student was playing. It was the day before my final examination. Later, one by one, each at a certain time, the music of my program came into my mind and I danced to each piece. Especially the rhythm of the last piece that came into my mind was very hard to realize because of its ultra-slow motion. It's very hard to make this equal beats (counts throughout the whole piece). But after I was able to dance it, the music was completely in me or better I was the music. When I performed it, it was like it made everything/everybody suspended. It carried throughout the whole piece. During the examination I developed joy in performing and would have liked continuing my performance at the end of my program. My colleague who had accompanied me to the exam told me that the people of the audience had turned towards each other asking who the interpreter is. The Jury gave me the 1st prix á l'unanimité which was 2 grades ahead of the others. My teacher was so enthusiastic that he took my notes and showed them to the audience and his colleagues talking in French about Music Kinesiology. The world's best organist was member of the Jury. When he passed by on me, heading to the airport for his next concert in Spain, he awarded me with a strong beat on my shoulder. – I had met him before and my teacher had asked me to play something for him. So he also had noticed the big development I had performed. I once was in one of his concerts. It was winter and the banks in that ancient church were hard and narrow. When the concert was finished I estimated it to half an hour. When I looked at my watch I saw that it lasted 1 hour and 40 minutes. There was no pain from the hard narrow bank which usually starts after around half hour. And he played modern music which isn't my favorite style.
Few years later a friend of mine was calling me because she was suffering suicidal depression. I told her to come here immediately. After applying Music Kinesiology, she told me why she was calling me: "If I see you how you stand there today and remember you years ago and me I've undergone many psychiatric treatments and nothing has changed." Also her husband had noticed it and consulted me later too.
These are proves of my changes towards reality, towards becoming again the true I.
And the changes continued here on the Philippines, which I noticed on pictures at the Agroforestry farm in Kibangay. I'm not sure whether I can find pictures of the different stages of my development. Maybe some were eaten by termites. There are many pictures from my childhood but as a young adult there were less because I didn't spent anymore much time with my parents and my father was usually the photographer. I also remember only one picture where my crippled stature is so obvious. It was made by a friend and he gave it to me later.
Once after a Music Kinesiology seminar one of the developer of the Music Kinesiology and another participant of the seminar were using the same train going home than I. We met there and the other participant told about the work of her husband. Then the developer told me: "This is for you as an engineer." It was about "New Geomancy". I informed myself and found one seminar which included hiking. One week around Gratz in Austria. Ok, this I liked because I like to hike and joined the seminar. There I met a soul-mate and she told me later about the sun diet (a kind of raw food) of David Wolfe. When I passed by at a big lake on my way home from that seminar I suddenly felt piece with my first girlfriend and mother of my first son. When I came home later my 2 years old son, who didn't talk much before, started talking like a water fall. Later my girlfriend mentioned to me: "You are suddenly so lovely to me." In that "New Geomancy"-Seminar we were on our way with to heal the earth and the conductor of the seminar told us that the earth knows what we need most and is going to heal us.
Because of this Raw Food Diet with tropical fruits, which I couldn't afford any longer in Germany, I went to the Philippines to develop a place where I can practice the original human diet and I just recently remembered that I had the Idea to do so already at the age of 7: Planting a new Paradise and live in it.
Music
I have talked about the world best organist. Now I talk about my experiences with music.
I grew up with music. My grandpa was singing in a Church Choir and in a Men's Choir and he learned playing piano as autodidact. My mother also sang in a Church Choir, she played recorder and piano. At home my parents often times selected a sender at the radio which plays classical also called serious music. To listen to that serious music was for me like a heavy meal which is hard to digest. Especially when I wanted to concentrate on something else it was like pulling my attention to it and this made me feeling disturbed. The more I learned about the music, the composers and their lives and the more advanced I became in playing musical instruments; the more I enjoyed listening to the serious music. At age of 4 years I was enrolled to the Music School. There we learned the notes and rhythm and we made perception and performance exercises. Among them were dancing, moving our body to music, painting to music and more. We learned already fractions, as they are necessary to understand the different note values. At age of 6 years, I learned playing recorder, at age of 9 piano and saxophone and joined a children's choir and at age of 14 I learned playing the grand organ and clarinet. At age 21 I made an entrance exam for the education to a semi-professional church musician and at age of 26 I made the entrance exam for organ interpretation at the Charles Munch Conservatoire in Paris which I finished at the age of 29 (few days before).
When I started learning playing the grand organ, the teacher, a tall man with a deep soft voice and a bass singer in his main profession, told me about articulation as the only way of expression an organist has. He let me feel the pressure points of the keys. The way he introduced me of how to treat the queen of the musical instruments was very gentle and it was for me a very special seldom valuable discovery. At age of 16 I started the education as a Mechanic in the dual System of Germany. That means we work 3 ½ days at a company and have 1 ½ days school a week. Once a week I had my organ lesson. When I arrived at the church where the lesson was held, there was still another lesson of another student ongoing. I sat down at one of the chairs there, waiting for my time and listening to the music of the other student. After 8 hours work and being already 11 hours on my feet I was also tired so my eyes closed while listening to the music of the other student. I was like driven into another world; the world of the music as I would have said it during that time. It was like a time machine. My soul had beautiful long journeys and when my lesson started only few minutes to half hour had passed. I most enjoyed this few minutes of the week and I was sure that this was possible because of the music played by somebody who is in the music and inspired. I also wanted to become a musician with these qualities to be able to give my auditorium the opportunity to allow their soul to make beautiful journeys as I did. My teacher mostly plays old music like from the baroque age. When I listened to my teacher in organ concert, the movement of the music often times remembered me on scenes from nature like an animal is waiting for a prey and then when the prey arrives it makes a sudden fast movement towards its pray and goes back into original position in the same speed and there swings like a leave spring or sewing blade which was relaxed and in the same moment its swinging part shortened so that its frequency increased. – If we look at the formal art of that time things like this we can see there. – For me it's like a mystery how somebody can imaging and express these things in music as they are not written in the notes nor are they different from what's written in the notes. It's the creativity of the musician. The notes are like a framework and the musician has to fill in the gaps/the empty space with life. Somehow somebody must be inspired to be able to let the music move like this. For me, this is a very art and for me I believe I would still need guidance to play music like those artists. Yes, Playing like this is a creative act and therefore those musicians are artists. My repertoire is very small because most of my time went to the studying and performing mechatronic engineering. That is why there is still much to learn for me before becoming an expert grand organ music interpreter. I'm pretty sure that I was gifted to meet and learn from the creme de la creme of organists. And this was also an essential part for me to aim being again a part of nature. I would be glad if I could integrate playing organ in the "Nude Ape Diet" because the nature as the music reflects is already almost completely destroyed. On this way the music could make our environment more complete and as experiments show also plants are having benefit from the old music (Google: sonic bloom).
The most important thing I have learned in my life is that the thing bothering one is only a question of personal perception. And what we perceive in this stage isn't real. And I have learned to come into reality. It's the most essential thing there is to stay in reality – the true love. You might ask: "What have reality and true love to do with each other?" I tell you: "Come here, practice "Nude Ape Diet" with me and you will know the answer." And you will know that the question can't be answered until one practices "Nude Ape Diet".
Primary interests: Culture (Nature Connection); Integral Design (Whole Systems Thinking, Contextualised Design); Ecology (Ecosystem Restoration, Seeds, Food & Soil, Green Building, Renewable Energy & Transport, Water Cycles); Economy (Planetary Boundaries)
Site content by Christoph Day
Ecovillages
Region: GENOA
Languages: English, German, Tagalog
As a 7-year-old, I heard the story of the paradise and that humans were kicked out from it. I was wondering why humans not just plant a new paradise as they are capable of planting. I liked the idea of planting a new Paradise because I sensed that this would provide us with an easy and stress-free life and in fact, this would be the life the creator has made us for. … Read more