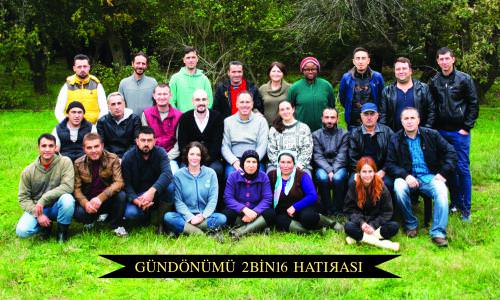 I'm a dairy farmer since 2000 who studied economics and worked in textile industry for 10 years before the farm.Im married 25 years and partner to my husband for 16 years at the farm together.He is teaching classical percussion at the state university.We have a 15 year old son together.We both have a permaculture design certificate and are managing our herd holistically through Allan Savory Turkish Hub.
Pls.find more information,feedbacks about us and photos through the links below:
https://www.facebook.com/aysunsokmenthesutcu/photos_albums
https://www.workaway.info/account-en.html
http://www.helpx.net/host.asp?hostid=18579&network=3&status=updated
There is a doorstep delivery network which we are providing bottled raw milk to 2000 addresses weekly.
We are hosting volunteers since 2011 and have had hosted more then 400 guests internationally.Each guest is very satisfied at the end of their stay and appreciating the values,the atmosphere,the peaceful and caring community we have created.
8100 is a project of ours aiming for healthier soil,regenerative ecosystem through the neighbors working on the same land,using the sales network but focusing on different variety of living creatures.
Thank you
Primary interests: Social; Culture; Integral Design; Ecology (Green Building, Seeds, Food & Soil, Water Cycles, Renewable Energy & Transport)
Site content by Aysun Sökmen
Ecovillages
Region: GEN Europe
Languages: Turkish, English, German
8100 focuses on regenerating soil-providing service to ecolife through mono activity focused neighbors completing each other on a permacultural vision using the same land.Throughout the doorstep delivery each member can sell his/her products or services directly to the consumer and has individual economical gain.However social,cultural and ecological gains are mutual. … Read more