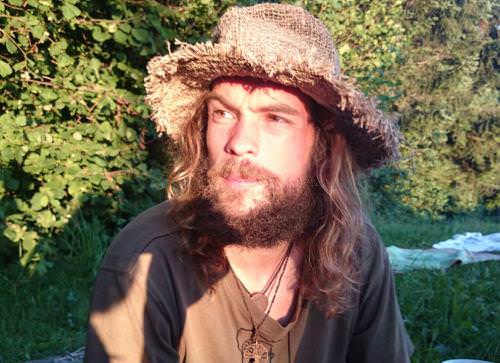 I'm currently living in a carriage in a countryside neighboorhood in switzerland. We have a little permaculture garden and a small Workshop, mostly for woodworking, where I do many different things, e.g. solar-dryers and compost toilet.
I'm a R&D engineer in Robotics, mostly mechanics, but not working on it at the moment. I'm about to finish an education as a Vision Quest Guide and am doing Nature Trekkings with main Focus on Nature Connection, awareness and Group Dynamics.
Besides that I'm very interested in Natural Building, having some experience with clay and mud and woodworking.
I'like being outdoors, hiking & trekking and being, (re-)learning more and more about the harmony of nature and from time to time enjoying fun sports like surfing, climbing, snowboarding or beachvolleyball.
I have a Vision of travelling between and thus connecting different Ecovillages and contribute what I can with my technical skills, do nature-connection-work, medicine-wheel Coaching and Vision Quests with the ecovillagers and their guests and learn ever more about communal living...
Primary interests: Social (Trust & Communication); Culture (Vision & Purpose, Nature Connection, Wisdom & Innovation); Ecology (Green Building, Seeds, Food & Soil, Renewable Energy & Transport, Ecosystem Restoration)
Site content by Martin Fuchs
Solution Library
Regions: GEN Africa, GENNA, GENOA
Areas of Regeneration:

Social

Diversity & Cohesion
Health & Healing
Leadership & Governance
Trust & Communication

Culture

Mindfulness & Self Reflection
Nature Connection
Wisdom & Innovation
A Vision quest has its origins in the Tradition of the northern american Indians and was part of the culture of most ingigenous People. The Vision Quest, as it is perfomed more and more these days in our culture, was developped by Steven Foster and Meredith Little in the 1970ies. It's not an simple imitation of an indian ritual. Foster and Little took three important elements of the indigenous practice and created a new form of Vision Quest from it: 1.The Methods fasting, being alone in the … Read more