mostly latino, artist eco community
I am the founder, having lived in an intentional community on the border of Germany and Holland for 5 years before moving to Vilcabamba, Ecuador. I have been a radical anarchist activist in San Francisco for many years, an artist, entrepreneur, owner of the first exclusively antique clothing store, and father of 2 grown children, now with 2 granddaughters. I have been on my own personal spiritual path since the 60's and prefer to identify with nothing, rather only a process, of opening my heart.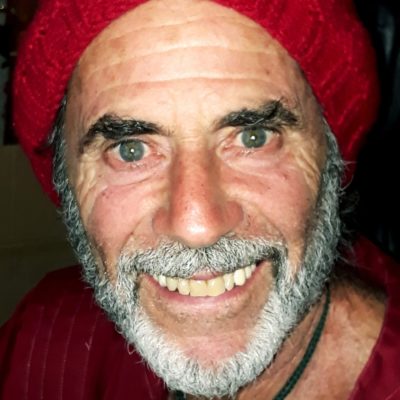 we are Chambalabamba mostly latino artists eco community in s. ecuador started dec.1 2012. we have 6 hectares of flat land along a river, 4 kms from the town plaza of vilcabamba. we are now in April 10, 2019 about 12 people including 7 children, 2 guees and 2 ducks on our swimming pond, a large fully equipped for music or circus outdoor stage with roof, next to the lake, a large, wood shop, 2 teepees, 1 yurt, 8 houses. Rentals: house on the hill (sleeps 8), river house (sleeps 4), each has kitchen, and hot showers and some baths, addition to the treehouse has 3 bedrooms, balcony, open living room, eating space, and kitchen, bathroom, hot shower and bath,workshop place overlooking the property and river, many organic gardens, and cultivated fields, banana, orange, mandarin, coffee, baby fruit trees, bamboo, school space, greenhouse, compost, recording studio, hot water, wifi, and electricity. circus stuff, music stuff, video stuff, a large malokka (12 meter diameter, with no walls) and a kitchen, 2 storage areas, a clothes washing machine, a treehouse, spirulina cultivation, drinkable river along whole side of property, alternative school for 3 to 6 year olds, etc 10 minutes to town by taxi or 50 minute walk. We are experts at bioconstruction. We are becoming more organized using sociocracy. Spanish is the first language, followed by english. bottom line: love.
we are looking for great musicians, artists, someone technical, agricultural, totally openhearted and minded, of noble character, with a passion for community, a good community attitude. minimum stay: one month, assuming that you love it here. you can see us on facebook group: chamhalabamba
We have many great projects underway. it is incredible here, living the new paradigm authentically. go to facebook group: chambalabamba to see us or chambalabamba.org.
-
Primary interests: Social; Culture; Integral Design; Ecology; Economy
Site content by Chambalabamba
Ecovillages
Region: CASA
Language: Spanish
Everyone is equal here. We have 3 principles: unity, harmony, and personal integrity. It is important that people only do what they want, as this is an exploration into what it is to live free, tranquility and respect for the sacredness of all things. We are living the new paradigm, where love is the bottom line. … Read more
Events
Date: 13 – 15 November 2014
Languages:
Location: Ecuador
In those 3 days we will have lots of different workshops such as: experimental dance, bellydance, yoga at surise and sunset, handcraft arts, extended workshop on bioconstruccion, ecological agriculture in accion, musictherapy and improvised singing. There will be play- areas for kids and activities such as paintclass , handcraft manufacturing and more Temazcal (sweatlodge), Women circle, trade fair and arts market concious movie THURSDAY camp- opening 19.30 comunal … Read more