GEN Consultant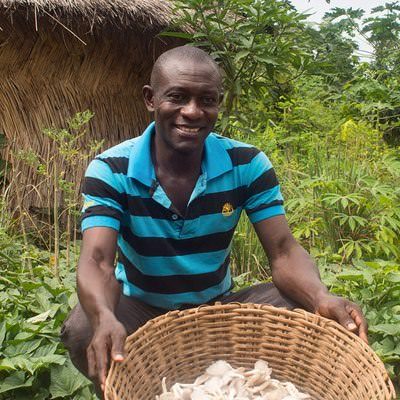 PROFILE
Dr. Yeboah Paul is the sixth born of the late Opanin Kwame Kyeremeh and Obaapanin Akosua Afra all of Techiman in the Brong Ahafo Region in the Republic of Ghana. He was born in the year 1970 in Mim-Bitre in the Asonafo District in the Brong Ahafo Region. He is 48 years of age. He is married to Mrs Ameyaa Agnes and has been blessed with four children. He has been in the New Apostolic Priestly Ministry since 1994 and is currently the District Elder in Akomadan district in Techiman Apostle area.
Yeboah Paul is founder of Ghana Permaculture Institute / Eco-Village and has actively and consistently been in development work for the past 10 years. His extensive Knowledge in community participation and development, coordination and management of Permaculture projects, programs, organizational development has made him work immensely in capacity building and job creation in civil society organizations.
SKILLS AND ABILITIES
Community based training skills:
Yeboah Paul holds Participatory Learning and action (PLA) skills in engaging communities to identify, analyse and plan activities and interventions of community improvement efforts. He uses PLA methods to facilitate community problem solving, decision making and action. He cultivated ecology to design sustainable agriculture. He designs productive landscape for sustainable land management in rural and urban centres. His PLA skills has been deployed in increasing sustainability, productivity, social Permaculture and self-sufficiency.
Business management skills
He has ability to train small and medium scale business and enterprises in effective business management skills such as leadership, team building, communication, time management and marketing skills.
Capacity building / Facilitation skills
He is also capable of building the capacity of identified groups within communities and effectively facilitate community led activities and interventions.
Project management
Yeboah Paul can plan, implement, and evaluate projects in a timely and efficient manner. He is skilled in managing people with strong interpersonal and communication abilities.
General Agriculture
He is versed in broad agricultural experience and knowledge.
EXPERIENCE HIGHLIGHTS
Yeboah Paul worked as a farm manager for Kristo Buase Monastery, a 430-acre farm in Ghana from 2004 to 2006. In 2007, he registered Ghana Permaculture Network as an NGO in Ghana. He designed moringa alley cropping systems for 3000 farmers in Ghana in 2008 and in that same year he developed herbal cosmetics production from moringa plant.
In 2009 he did a research for Methodist University College Ghana on soil fertility management and value chain development on maize and soya bean cultivation in Ghana for their 50 communities.
He organised Permaculture design course for 50 participants who were from NGO's, American Peace corps volunteers and farmers in Techiman in 2009.
He went on to establish 200 community tree nursery projects in 2010 in Brong Ahafo Region and Northern Region. In that same year, he established Permaculture Mushroom training centre in Techiman. In 2011, he trained 500 women in Upper East Region under Women Shea Butter Cooperative in Bongo Soe on Permaculture / Ecovillage design course. Another 36 women were trained by him in November 2011 under Azuma Resource mining area – Upper west Region – Ghana on Permaculture Design Course.
He is a founding member of Eco village Network Africa and Ghana and a council member of GEN Africa since 2012. He has been the president of Brong Ahafo Moringa Farmers Association since 2014 and the president of Global Ecovillage Network Ghana since 2016
EDUCATION
Yeboah Paul had his M.S.L.C. Certificate at Abebrese L/A J.S.S. from 1979 to 1987 and furthered to obtain G.C.E.O level certificate at Ahafoman Secondary Technical from 1987 to June 1992.
He proceeded to obtain General Certificate in General Agriculture training and manpower division in Wenchi Farm Institute in 1995. From 2001 to 2003 he read Diploma in Tropical Agriculture, NVTI (Grade 1), NCC in Institute of Tropical Agriculture – Kumasi.
He learnt Permaculture Design Certificate Course at Kristo Buase Monastery in July 2004. Peace Corps Ghana awarded him Peace Corps Certificate of Appreciation in November 2007.
He earned Certificate in Plant for the Planet: Billion Tree Campaign for planting Trees and catalysing environmental action in the service of the earth and the benefit for human kind from the United Nations Environmental Program (UNEP) on February 8, 2008. He was awarded Certificate in Agroforestry for demonstrating outstanding knowledge in agroforestry on May 30, 2008.
He studied an ICT Course on Introduction to Computers, Microsoft Windows, Microsoft Word, Microsoft Excel, Microsoft Access and Internet Training from Sefmat Training Foundation Ghana in December 2008.
He went to Germany from August 9 to September 8, 2010 where he studied two course; Permaculture Design Certificates Course and Eco-Village Design Education – Training for Sustainability held at Eco – Village of Sieben Linden Germany.
In 29th September, 2017 he was awarded Diploma in Applied Permaculture Design from German Permaculture in Berlin.
He read Bachelor's Degree in Business Management from the Atlantic University USA from 22nd July, 2015 to 22nd February, 2018.
On 28th April, 2018 he was awarded an Honorary Doctorate Degree by Devine Theological School of Ministry for his diverse works and experience.