Rasā Haven - sustainable learning community
I started this project with a vision to enable the next generation to have a platform for them to learn about the importance of coexistence with nature and also to nurture the minds creative energy.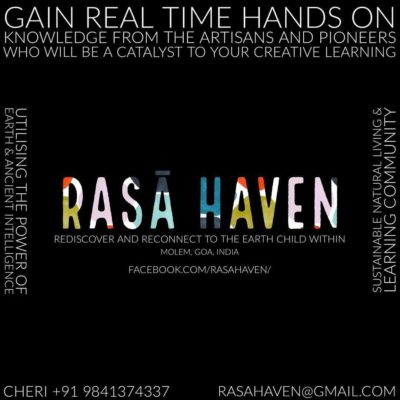 Who we are
Welcome to Rasa haven
"Rasā is a serendipity of aesthetic essences. In the quest for essence of nature, essence of knowledge, essence of art forms, essence of cultures, essence of self...arises a haven of simple living. Explore/Rediscover your self at Rasā Haven!"
A place to nurture the earth mind and body , a platform for free thinkers to learn , teach and live about nature, lifestyle, gardening,art, performance art and workshops .
Primary interests: Social (Lifelong Education, Diversity & Cohesion, Health & Healing); Culture (Wisdom & Innovation, Art & Celebration, Nature Connection, Mindfulness & Self Reflection); Integral Design (Whole Systems Thinking); Ecology (Seeds, Food & Soil, Green Building); Economy (Planetary Boundaries)
Site content by Cherian Thomas
Ecovillages
Region: GENOA
Languages: English, Hindi, Malayalam, Tamil
Projects on the pipe line are , – earth construction methods – permaculture farming – medicinal and herbals food farming – food forest – sustainable products – renewable energy – art and craft workshop setup – performance art stage … Read more