Ecoculture Center and Permaculture Farm
Flery Fotiadou natural & herbal medicine, gardener, I am the mother of Re-Green and today a member of the Re-Green circle. I always found peace in Nature so I studied natural methods of growing food and regeneration of the Earth inspired by Biodynamic & Homeodynamic Agriculture, Fukuoka Natural Farming, Organic Farming and have attended until now two Full Permaculture Design Courses.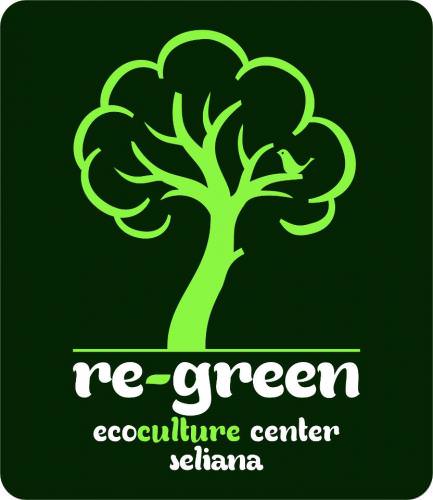 Re-Green is an ecoculture center based on a mountain countryside, aiming to actively experience the power of Green living. We are convinced that the world's problems, the economic crisis, the diseases, the climate change, the pollution etc can be solved by Re-Greening our lives. Re-Green stands for everything... re-use and re-cycle things, reduce waste, refuse in the first place, repair, re-think our actions, re-write the rules, re-view, re-model, re-design, re-invent Life! Re-Green means to take responsibility and to simplify. Re-Green is Permaculture, Sustainable Living, Energy Saving, Self-Sufficiency, Nutrition with Real Food.
Re-Green extends to Meditation, Elevation, Compassion and Unconditional Love to all living beings in the Planet.
It is a project of two people who consciously abandoned the hectic city life and moved to the countryside with the aim to build a life of trust, love and care for the Earth. The project is about a never ending design of a Sustainable and Regenerative model of living following the principles of Permaculture. It's about Balance within the four elements of Fire, Earth, Water and Air. Locally grown healthy food, nature friendly structures, traditional remedies and ancient models of healing, fresh air, active work with the body, mindfulness and open hearts.
We believe that the transition to Re-Green is about self responsibility, but it is as critical to involve the energy and contribution of other people too. This is why we are also creating a welcoming home for people who share the same ideas with us, so that we all can change together and multiply the effect of this transition with awareness around!
Follow us as we take each step in our path of transformation and let's explore together the art of learning and sharing in the supportive community of Re-Green.
Primary interests: gardening, herbal medicine , natural building, cooking, yoga, music
Site content by Re-Green
Ecovillages
Region: GEN Europe
Languages: English, Belgique, Dutch, Greek, Portuguese, Spanish
Re-Green is an ecoculture centre situated on a mountain countryside, aiming to actively experience the power of green living. Through re-greening our lives we hope to find solutions to some of the world's most pressing issues. Re-Green stands for all components of life: re-using and re-cycling, reducing waste, refusing, repairing, re-thinking our actions, re-writing the rules, re-viewing, re-modeling, re-designing. In sum, re-inventing life! Through community we aim to foster a sense of … Read more
Events
Date: 15 – 21 September 2014
Languages:

English
Greek
Portuguese
Spanish

Location: Greece
This 6 day immersion will lead us through an intense cleansing and purification process. Combining the dynamic morning flow with an afternoon Taoist practice, we will enjoy both physical, emotional and spiritual release and opening. As well as asana, prananyama, dance, meditation and bhakti we will also follow a holistic yogic-life approach with the food - being vegan and with plenty of juices. Choosing the path of yoga is not about bending your body into different positions, it is about a life … Read more