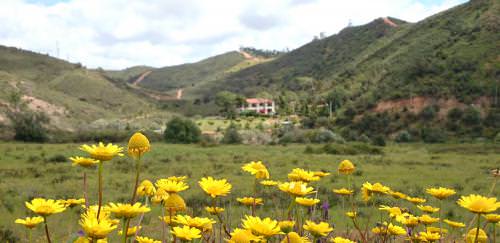 Shangri-La is a bio-dynamic/permaculture farm/garden started 1/3/16, we focus on selfsufficiency/sustainability , produce most of what we eat ., grow a rich diversified variety of plants/fruits trees , see website for more details.
it is a working farm/garden
Shangri-la is and wants to be a intentional comunity for living a healthy life style, free from EMF/microwaves radiations.
We offer a holistic healthy environment and life FREE from unhealthy pollution from electromagnetic/EMF, wireless radiations
(ie.wifi/mobiles)
We dont have and do not allow WIFI so the CONNECTION is much better here...
There is a long term possibility to join as a resident.
It is also a place that offers BnB ( rooms for rent ) for short, or special agreements for long-term and a place where you can rent a space to camp or establish your mobile home , teepee , yurt, for a short or long term stay , maybe even grow your own garden and live selfsufficient
and/or
a place maybe for a long term stay as a community member but this is of course a long project/story
A big part of the life here is about cultivating taking care and transforming , fermenting , drying the food we
produce, there are chickens and a cachena cow and calf.
we regularly bake our bread with our own sourdough starter with fresh grinded cereals from our own mill , different fermented drinks and vegetable fermentations and experiment are always actual.
raw food is in forderground, but not only.
Acoustic musical instruments are most welcome!
NON smokers only ,no drugs, no alcohol, no pets ,thanks
Site content by Stefano Novellino
Ecovillages
Region: GEN Europe
Languages: English, French, German, Italian, Portuguese, Swedish
Shangri-la is and wants to be an intentional community for living a healthy lifestyle, free from EMF/microwaves radiations. We offer a holistic healthy environment and life FREE from unhealthy pollution from electromagnetic/EMF, wireless radiations (i.e. WiFi/mobiles) We do not have and do not allow WiFi so the CONNECTION is much better here... There is a long term possibility to join as a resident. It is also a place that offers BnB (rooms for rent) for short, or (with special … Read more