Spirit Horse Eco-Village
SPIRIT HORSE is a place like no other! Hidden in a secret valley in Wales, it appears as an ancient tribal village, nestled in the wild woods, under a waterfall and glittering rock face. Originally created in the 90's by Shivam O'Brien to host retreats in nature, Spirit Horse has flowered into something unforeseen; an ongoing experiment in off-grid, eco-community living. But with tribal style!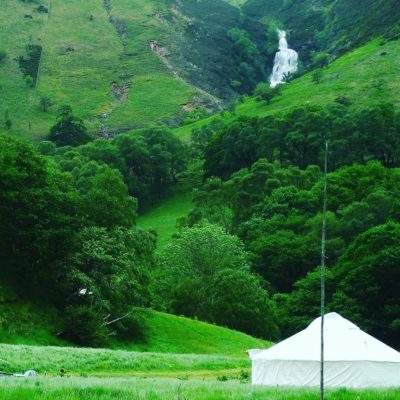 For those of you coming for the first time we would recommend you spend your initial days simply acclimatizing and hanging out before you connect to the different projects happening here. Some of you may have seen videos on Spirithorse and we highly recommend you watch a few before coming to get a flavor of daily life at a wild off-grid eco village.
DAILY LIFE at Spirit Horse (200 acres)
We are off-grid but we do have gas in the kitchen and solar for lighting and charging. There are no showers (we may put one in a tree!) - we all wash in the river! A deep cleanse can be had in the Sauna a few days a week. Hopefully, by May we can offer more accommodation in yurts - this is only possible for family 'bubbles' at the moment - this might change but to be on the safe side of the restrictions please bring a tent if possible as camping and self contained facilities are OK from April. Let me know if this is not possible in advance.
Meals (3 per day where applicable) are all vegetarian/vegan so this is a great place to detox! Meals can be eaten in our big undercover outdoor space or around the campfire in May
Life here is mainly outdoors. We do have indoor spaces but sitting round a campfire is an evening event here!. We have a short mid-morning gathering (M-F only) where we share out the projects to anyone interested in taking part - otherwise feel free to simply hangout (unless you are a woofer!). Our building team will be working on finishing the Giant wooden Yurt (80% finished) high up on the hill and a new outdoor kitchen and some extra big tents etc. Anyone interested in helping might learn some carpentry! Each day life is very relaxed here - just being here is often enough for people. Everyone will have the opportunity to take part in a number of activities/projects going on including hikes to the waterfalls, yoga, meditations, gardening, maintenance, cooking, carpentry, drumming, dancing, and storytelling, from time to time, all sprinkled throughout the month rather than daily. People here are encouraged to create their own projects and events or simply relax.We have a big green car park for cars and those with camper vans.
Site content by Tahantar Tahantar
Ecovillages
Region: GEN Europe
Language: English