Real experience is the best way to engage people in cultural and environmental regeneration. That's why we decided to open our home, Terra Alta, to empower those seeking alternative ways of life to learn, grow and become agents of positive change in the world. This abundant, healing land in the middle of a protected valley in Portugal is where we host courses and educational events teaching cultural and land regeneration, while providing a real example of creative, dynamic and harmonious comm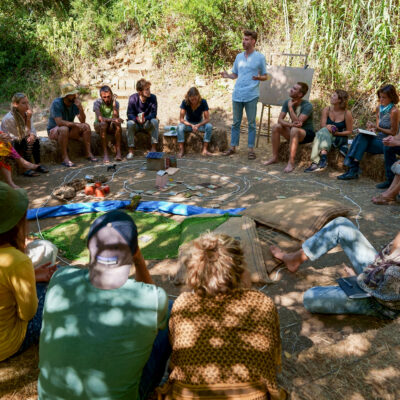 Terra Alta is an inclusive learning centre welcoming people from all walks of life, here invited to step into their role as regenerative agents, creating new pathways into the future and inciting an international movement of cultural, land, and social transformation.
A wild piece of land near Europe's westernmost cliffs is host to a journey of self-discovery, where community building is guided by nature and the energy of this powerful site.
Our mission:
Inspired by the principles of permaculture, we are a community committed to working with nature by regenerating the soil, producing healthy food, and building ecologically while actively contributing to an international web of eco-cultural transformation.
Terra Alta offers experiential life-education programmes for both youths and adults, inspiring participants to become pollinators and spread the word of abundance and nature connection far and wide.
Events & Trainings held by terra alta permaculture
Our 2-week long Permaculture Design courses give a rich, comprehensive introduction to living, designing and creating in harmony with nature. They also offer a once-in-a-lifetime experience of community living and the dynamics involved in successful social projects. Expect to gain practical answers and solutions for the challenges of today, and immerse yourself in a transformative lifestyle designed for yourself, the global community and our planet to thrive. … Read more
Site content by terra alta permaculture
Ecovillages
Region: GEN Europe
Languages: English, German, Portuguese
An educational center focused on off the grid living and ecological design spanning all of the permaculture ethics, social, environmental and economic dimensions. Our aim is to distribute sustainable living skills, blending the teachings of permaculture, natural building, and those of many other traditions. … Read more
Events