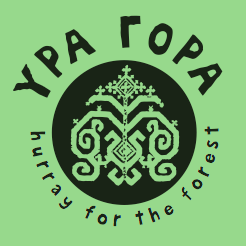 The 'Ura Gora' founders are two young families who have settled in the fields of a deforested and degraded territory in Strandja Sakar, with a mission to restore the ecological and social balance of the region through the following activities:
1. Demonstrate positive action through our own life example of harmonious and sustainable coexistence with local nature
2. Organization of regenerative design and implementation for healing the local environment – planting of hardy pioneer plant species to restore biodiversity in the region
3. Attracting supporters - volunteers, local government representatives, sponsors, decision makers, the media, to help process
4. Creating conditions for more young people to participate in the process of recovery of the area and training in alternative methods for Sustainable Development (Permaculture model)
5. Education for local community to understand the problems and begin to design and implement sustainable solutions to the problems in the region, including innovative models for small scale enterprise.
Primary interests: Integral Design
Site content by uragora
Ecovillages
Region: GEN Europe
Languages: Bulgarian, English
Ura Gora means Hurray for the forest, a celebration of renewal and growth- an ever growing forest of trees and a forest of people who may inhabit together this beautiful place in South Bulgaria. Our Foundation is based in 'Rodovo Selishte', the first eco-village in Bulgaria, where we currently have eight families living together on their own plots of land. The 'Ura Gora' founders are two young families who have settled in the fields of a deforested and degraded territory in Strandja Sakar, … Read more
Events