Dear friends, colleagues and ecovillage lovers,
It is with one laughing and one sad eye that I share some exciting news with you:
Nearly 4 years have passed since the last big transition in GEN Board leadership in 2015, at the GEN+20 Summit in Findhorn. And now that time has come again.
Daniel Greenberg has done a fabulous job over this timespan to steer the ship of GEN, as President of GEN, with a light but decisive touch, and with much love and generosity.
His preparation and facilitation of the GEN Board meetings has been exemplary and has led to a strong, empowered Board that is ready to take over. Seeing that our Board Trustees call in from all continents it is no small feat to forge a solid body of good governance – kudos to you, Daniel!
Thank you so much for all your have given and continue to give to GEN. Thank you for all the time spent and all the support you have given to me and so many of us in GEN.
As Daniel and his family are preparing to move to Auroville this July/August, please join me in sending him our gratitude and best wishes for new beginnings.
During all that time, Beatriz Arjona, as Vice President of GEN, played her role, representing the Global South, bringing in sociocracy to GEN, but also in ensuring that conversations are slowed down to a pace that embraces all those who do not have English as a first language (which is most of us…).
Beatriz has continuously brought a voice of clarity and thoughtfulness to Board conversations, with a strong focus on empowerment and capacity building of those involved in GEN's networks.
Thank you so much, Beatriz, for the joy and precision you have brought to your role, we will miss you hugely in the Board – and know that you will stay engaged in other ways.
And while it is sad to see you both go, Daniel and Beatriz, it is also hugely exciting to welcome:
Jennifer Trujillo, from Colombia, as GEN's new President. Jennifer is a consultant in organisational planning and networking, skilled in hosting the transformation of social movements towards participatory leadership and comes from Colombia. She brings to her new role a high level of enthusiasm, intelligence and skill – and we can already taste the breeze of change she will be bringing to GEN.
Cynthia Tina, from the US, but spending a lot of her time in Slovenia, as GEN's new Vice President. Cynthia is a founder of the GENNA Alliance, a collaborative platform serving the regenerative communities movement within North America, and has visited over one hundred sustainability projects across four continents.
Both Jennifer and Cynthia have been on the Board for the past four years and bring a combination of experience and fresh vigour to the table at a time when our organisation and network is ready for a next step.
We are also delighted that Lee Davies, from Canada, who took on the role of GEN Treasurer in 2015, will be continuing in that role in the coming years. Thank you, Lee.
Let's put our hands and hearts together to warmly welcome Jennifer and Cynthia, and to applaud Lee for his continuing service – thank you for your willingness to step up and in! May you receive all the support you need from all of us to shine and bring your best for the whole in these roles.
As we move through the, possibly, last cycle of three years of funding support from the Gaia Trust Foundation in Denmark, and at a time when the tools and experience of ecovillages are more needed in the world than ever before, we are called to grow beyond the limits we set ourselves.
Each region of GEN, each national network, and each ecovillage project is an integral part and unique expression of the overall vision of GEN. Our diversity is our strength. Our cohesion gives us a powerful voice and presence in the world. Our cooperation can help us to thrive.
Thank you, Daniel and Beatriz, Jennifer, Cynthia and Lee, for your contribution in leading you through these times!
With all best wishes from all of us in GEN,
Kosha Joubert
Global Ecovillage Network Executive Director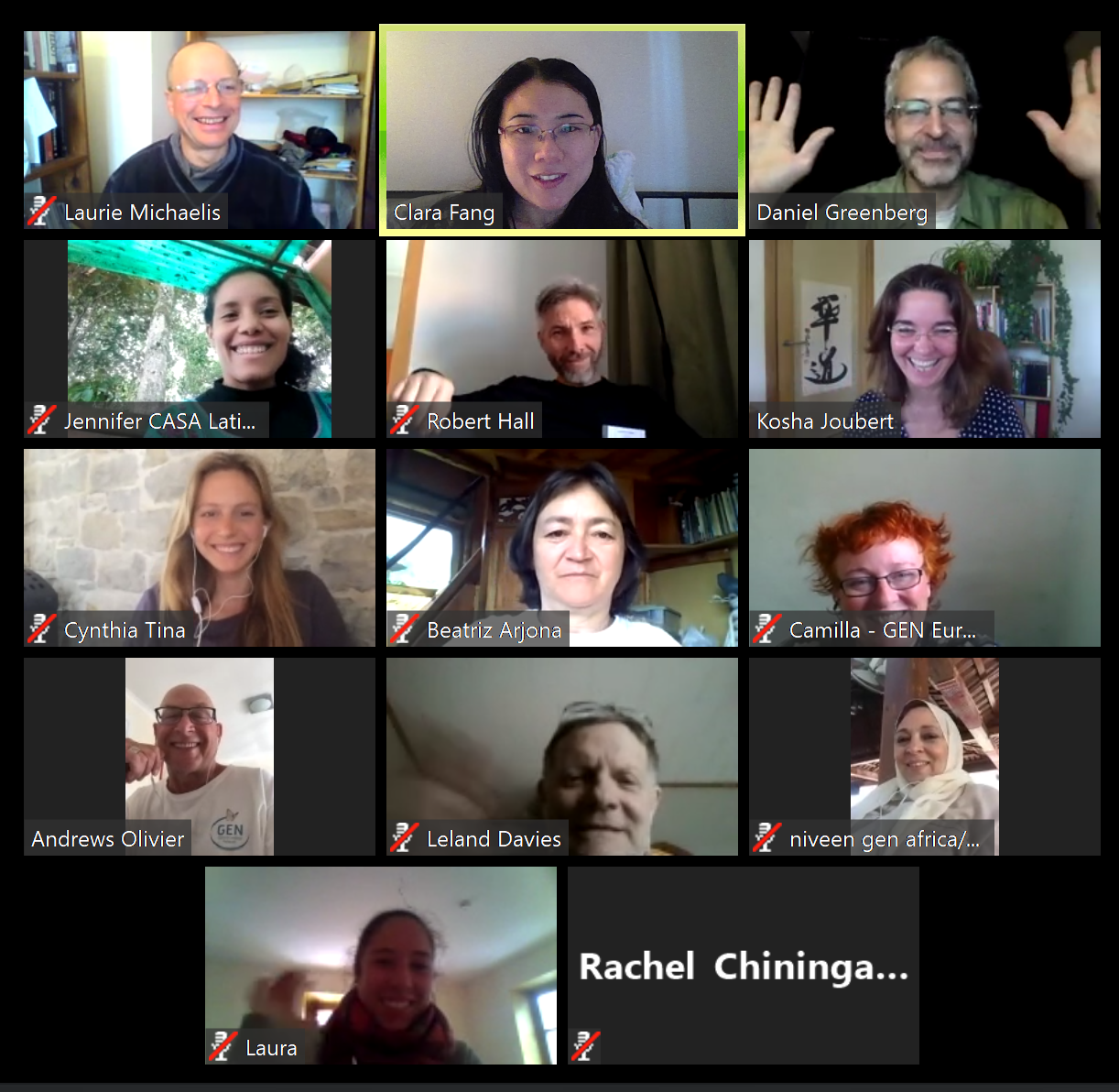 Responsible for carrying the larger picture for GEN's overall Vision and Mission, the GEN Board is composed of two Charity Trustees representing each of the Regional Networks of GEN (GEN Africa, GEN Europe, GENOA, CASA, and GENNA), as well as two representatives from NextGEN and GEN (the Board President, and a representative from the country where GEN is incorporated).
All Trustees are officially instated and blessed by the General Assembly at least once per year. Charity Trustees have the responsibility to serve the interests of GEN and serve as double-links, sharing information about their Regional Network in the Board of GEN; and vice versa. The Board aims for gender balance, and makes decisions in accordance to Sociocratic principles.
The Board is Chaired by GEN International President.
See the current GEN International Board members.