We are proud to release the Global Ecovillage Network Annual Report 2018. Our staff, partners, and members are diverse, creative, and driven by passion and commitment. We strive to ensure our projects and programmes are engaging, impactful, and contextually relevant.
When we reflect back on our accomplishments of 2018, we hope to ignite these qualities in our readers as well. Our annual report provides metrics, as we measure and track our progress and set new targets for the coming year. It also encompasses stories, bringing together perspectives from across the globe woven into our collective narrative.
From participating in the United Nations Conference of the Parties (COP24) to engaging 10,000 people with the wisdom of 30 activists in our free online summit, from providing training across continents to hosting innovation labs in the global North and South, GEN continues to engage with a network of dedicated change-makers towards a regenerative world.
Whether you read our 2018 Annual Report cover to cover, dive into one region or focus area, or simply flip through and land on a page, we hope you'll connect with our vision and feel compelled to join us in our mission.
Together we can build the regenerative cultures the world needs.
Access the Global Ecovillage Network Annual Report 2018:
Letter from our Executive Director
Are you aware that, every day, around 200 species of plants, insects, birds and mammals are becoming extinct? That 68 million refugees were forcibly displaced in 2018? That we are currently on track for at least 3-4°C of warming by the end of this century?
The world is calling out for us to wake up and transform our human presence into a force for regeneration!
GEN has never been more relevant. New ecovillages are being implemented hand in hand with local municipalities. Government institutions are collaborating with us to implement ecovillage transition programmes. GEN's first Online Summit 'The Power of Community' drew more than 10,000 participants.
Throughout the 5 GEN Regions and NextGEN, we are committed to stepping up and responding to the rising need. We are growing our circles of GEN ambassadors, trainers and consultants to spread our inspiration. As we incubate new ecovillages, transition existing communities, transform urban neighbourhoods, initiate green schools and rebuild communities after disaster – ecovillage is becoming a new way of life.
Thank you for opening your heart and stepping into the power of community. Your active participation makes all the difference. Together we can build the regenerative cultures the world needs. Next year, let's write a new story.
Kosha Joubert, GEN Executive Director
Measuring the Impact of Ecovillages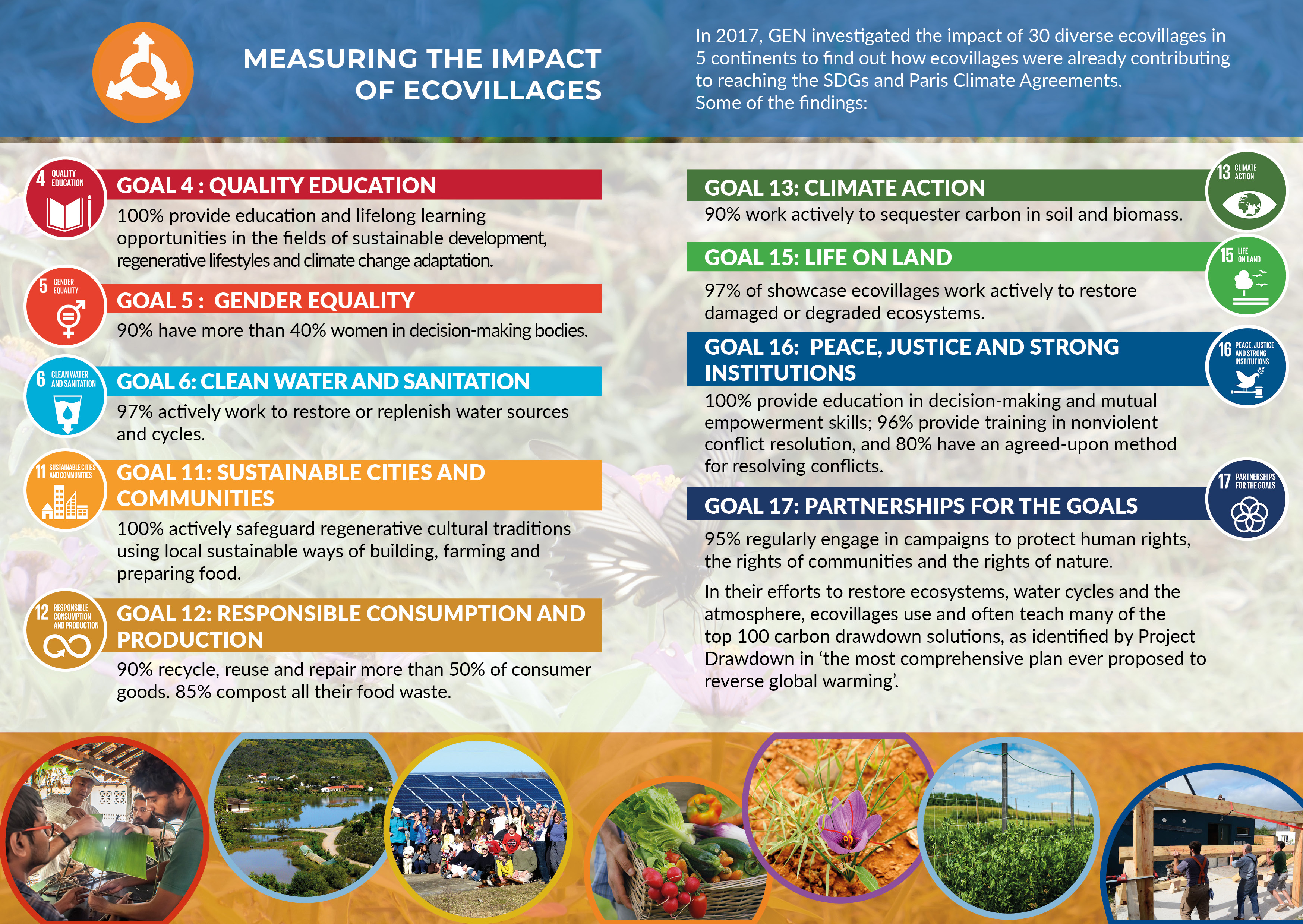 "We have the science, indisputable around climate change. We have records of what people are doing. We have so much information. What we need more than anything is our natural strength and legacy of being in community. We are meant for community; we're enlivened by community."
Joanna Macy, author and founding teacher of The Work that Reconnects
"In this unprecedented age of climate change, advancing technology and social inequity, we are being called upon to reinvent everything – from our economic, agricultural, and transportation systems, to our built environments, to our local, national, and international relations. But most vitally, we need to create new worldviews – new stories that move beyond our dominant 'empire' mentality and allow us to recognize our fundamental interbeingness and live in greater harmony with each other and the planet."
Daniel Greenberg, GEN President (emeritus)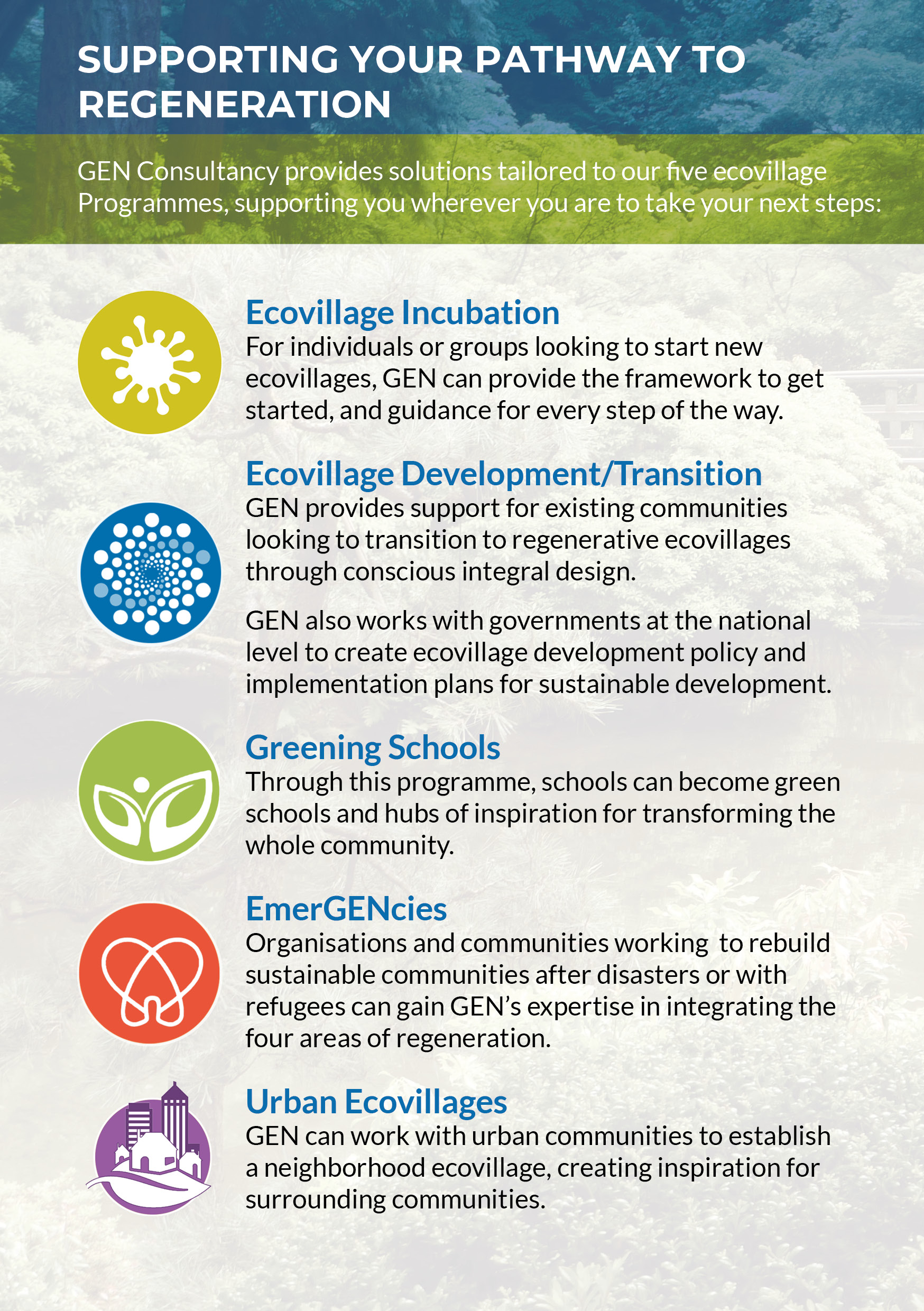 Previous Reports
Learn more about the Global Ecovillage Network by reading our previous annual reports, constitution, and other core documents.
Engage with the Global Ecovillage Network
Now more than ever, we need to connect as a community and stand in solidarity to create the beautiful, interconnected world we all want to live in.