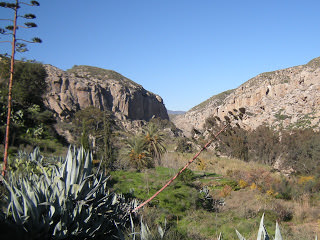 Dentro del Paraje Natural Karst en Yesos de Sorbas, remanece una antigua Aldea que se sustenta sosteniblemente, Los Molinos del Río Aguas, un marco incomparable de biodiversidad natural y humana. Esta Aldea vive libre de conexiones de agua y luz; del río viene el agua, de la tierra los alimentos y del sol la energía.
Aquí, en la región más árida de Europa, nace un río que viaja por las entrañas del lugar y da vitalidad y esencia de verde a este valle empapado y fresco. Entorno que esconde en su interior mágicos rincones de aguas cristalinas, misteriosas cuevas para perderse y rocas que brillan con el sol del atardecer. Las excepcionales cualidades y valores naturales que atesora el Paraje, hacen de este lugar un oasis en medio del desierto.
En los Molinos se desarrollan distintos proyectos sostenibles como por ejemplo:
La Asociación 'Ecocidio Río Aguas' que nace con el compromiso de defender el Río Aguas y su acuífero.
La Asociación Artesana 'PITA-ESCUELA del Río Aguas', Centro de Educación Ambiental Artística especializado en Madera sostenible y reconocido por la Junta de Andalucía como 'Punto de Interés Artesanal'.
El proyecto 'SUNSEED Tecnología del Desierto' un proyecto de educación no formal para la transición hacía la sostenibilidad.
ORGANIZAMOS visitas para grupos a partir de 4 personas cualquier día del año con cita previa, ofreciendo rutas temáticas, talleres de distintas modalidades y oportunidades de voluntariado, siempre personalizados a los intereses de cada grupo que viene a visitar.
PROYECTOS EN LOS MOLINOS DEL RÍO AGUAS:
Asociación en defensa del agua: https://www.youtube.com/channel/UCDb2C8THnlV-IsgJg7TLToQ
Asociación Artesana especializada en Madera de Agave: www.pitaescuela.org / Insta, FB, YouTube: 'Pita Escuela'
SUNSEED Tecnología del Desierto: www.sunseed.org.uk
Membership & Visitors
Open to new members
Open to visitors
Si estas interesado en venir a visitarnos, ponte en contacto con el proyecto que más te interesa conocer para recibir más información sobre las condiciones de nuestros visitantes.