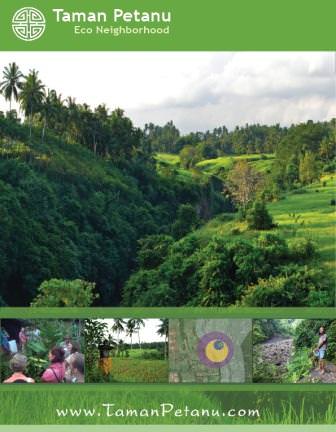 The Taman Petanu Eco Neighborhood is a beautiful 1.3 Hectare property just 15 minutes south of Ubud located in Banjar Sumampan, Desa Kemenuh, Sukawati, Bali – Indonesia.
The Taman Petanu Eco Neighborhood community of like-minded people began to form in 2009. The Neighborhood is currently in construction phase.
The basis of Taman Petanu is a deep commitment to preserve and enhance Bali's environmental, social, cultural and economic sustainability.
It is being created to demonstrate a model for sustainable living and community empowerment that upholds the Balinese philosophy of Tri Hita Karana, which balances our harmony with man, nature, and God or Universal Energy.
The neighborhood includes 20 self contained private plots, which are supported by a range of common access facilities including: centralized waste and wastewater treatment, Permaculture landscaping, bio pool, landscaped sacred playground, barbecue & gathering area, amphitheater and pavilion for workshops and events.
There are opportunities open for families and individuals to become part of this neighborhood with the open plots.
Taman Petanu Eco Neighbourhood Vision:
Taman Petanu is a consciously evolving model community that embraces diversity and radiates harmony, respect, innovation, abundance and joy.
To view the "Taman Petanu Community Vision " video on You Tube please visit :

For regular updates and to network with the Taman Petanu community please Join us on Facebook at:
Taman Petanu Eco Neighbourhood
https://www.facebook.com/TamanPetanu