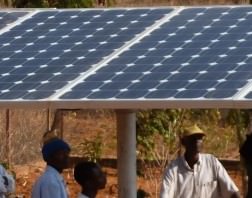 Ecovillages in Tanzania have the potential to lead the way in adopting an integrated approach to climate mitigation and adaptation while adding to climate resiliency. An article by Michael Farrelly, programme coordinator, Tanzania Organic Agriculture Movement, with introductory comments by Rob Wheeler, United Nations Representative, GEN, and Tim Clarke, GEN Ambassador.
A primary example of what can be done in either a traditional or ecovillage community to best address our climate challenges, is a project in Tanzania. It was funded for 3 years by the European Union and is now entering the second phase of the project. In this phase they are introducing what has been done already in nearby communities – thus replicating and scaling up the projects. These projects in Chololo and Pemba ecovillages focus primarily on climate mitigation and adaptation, but integrate a large part of the 3 (or as GEN says 4: ecology, economy, social and worldview), elements of sustainable development across various sectors of the community using a community based planning process.

In Chololo they applied 26 interventions in multiple sectors over a period of several years. This resulted in doubling agricultural productivity, eliminating hunger in a drought prone region. Additionally, it dramatically reduced the amount of time that women and children have had to spend to fetch fuel wood and water, greatly increased income opportunities, and significantly reduced carbon emissions while increasing carbon sequestration.
These innovative climate interventions addressed such things as sustainable and organic agriculture, water harvesting, renewable energy, appropriate technologies, and small scale businesses. An excellent 30 page booklet on Chololo gives a complete project overview at: https://chololoecovillage.wordpress.com
The Pemba ecovillages included many of the same activities but focused more on reforestation and agroforestry. See: http://forestsinternational.org/pemba
The work and activities in Pemba are featured in a special web section prepared for the Paris Climate Summit on the GEN website at: https://ecovillage.org/node/5998
They are listed under the last section on Reforestation and Environmental Restoration.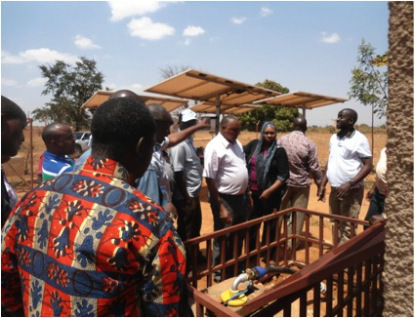 Michael Farrelly, Programme Coordinator for the Tanzania Organic Agriculture Movement, reports on the successes of the scaling up process carried out following the remarkable success of the Chololo project. A participatory farmers assessment workshop was held in December with farmers from three climate change project villages in the semi arid Chamwino District in Central Tanzania. The workshop compared the performance of 10 or so agricultural climate change adaptation technologies introduced by the project, with a control group of non project participants – looking at effectiveness, gender benefit, and affordability, over two years including an extreme drought year. The results show very good yield improvement figures, but even better resilience upgrades. This was at the end of a 2 year DFID funded project where we took the best performing technologies from the Chololo Ecovillage and rolled them out in three new villages, later extended to five. The results are very interesting.
The full report has many details but here are the key conclusions and recommendations:
Take-up of the ten technologies introduced has been very high, with over 80% take-up of the top four techniques, over 70% of another two, and around 40-60% take-up of the more labour intensive actions.
Most of the technologies introduced are affordable to most of the farmers, without need of loans or grants. However, a few technologies are judged by farmers to be beyond their current means, requiring them to seek loans, particularly ox tillage implements, and to a lesser extent improved seeds – both of which are clearly recognised by farmers to be of high benefit.
The most effective technologies judged by farmers are as follows:
Improved seeds
Ox tillage
Planting in rows/spacing
Farmyard manure
Weeding
Women particularly found improved seeds and ox tillage beneficial, as they provided food for the family, and saved labour and time for other productive activities. Ox tillage was also found to facilitate planting in rows and easy weeding.
Yield increased and climate resilience improved. It is clear that applying even one or two technologies brings a significant yield benefit in 'normal' local conditions. However, it is not sufficient to protect farmers against severe drought; as occurred in the 2014/15 growing season. We see that take up of several technologies provides further yield increases, but more significantly this provides major increases in climate resilience (measured by yield), during extreme drought conditions.
Recommendations
Improved seeds, ox tillage and good agriculture practices are the package that needs to be rolled out across the region. Benefits accrue to both women and men.*
Farmers access to improved seeds needs to be improved, e.g. by promotion of QDS production.
Farmers should be supported with access to loan finance to buy (or hire) ox tillage equipment.
All farmers should adopt these key project practices to gain significant yield improvements in normal years.
'Average' farmers (relatively low uptake of improved technologies), should adopt the practices of the progressive farmers (high uptake of improved technologies), in order to gain a significant increase in yields and a massive leap in climate resilience.
Small livestock improvements should be included as a useful C3S agriculture technology.
* Improved seeds: With climate change, rainfall patterns have become erratic and unpredictable, with the rain season starting later and finishing earlier. Agricultural research institutions have developed a range of low-cost improved seed varieties to adapt to the challenges of climate change.
The improved seeds are bred to be more drought resistant, high yielding and early maturing. Chololo farmers were supplied with a range of these seeds to test and evaluate, namely sorghum (Macia and Pato variety), pearl millet (Okoa variety), cowpeas (Vuli 1&2), groundnuts (Pendo variety), and sunflower (Record variety).
The Macia variety sorghum seeds, for example, were developed in Tanzania by local scientists supported by ICRISAT – the International Crop Research Institute or Semi-Arid Tropics. The plants reach maturity in only 3.5 months, are high yielding with short stems and a large head, and provide green leaves for animal fodder. All the seeds are 'open pollinated' (not hybrids) so they can be recycled by farmers year on year.