Location: Peru
Language:
Region:
Areas:
Context:
Categories: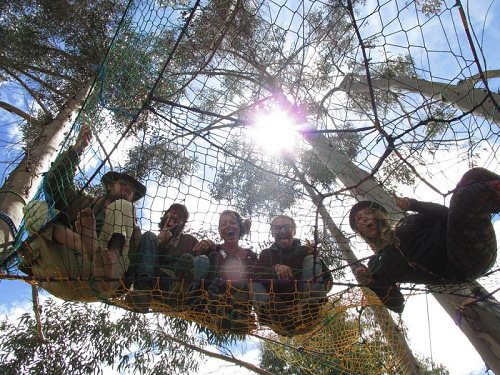 Living Change: Crafting Leaders for the Emerging Future.
Be part of our summer program this August 2015!
We are a leadership program aiming to inspire & empower the next generation of leaders looking to create positive change. Learn to take leadership of our lives, in our communities, and how to bring that practical knowledge home with hands on understanding of local and global sustainability. We aim to send out more empowered, conscious, young leaders into the world for co-creating contented communities and new social realities.
Key topics: Leadership; Personal development; Community; Permaculture; Sustainable living.
Includes:*
Tuition
Program fee
Permaculture Design Course (PDC) Certification
Room and board
In-country-transport
Self-organised service project in local Quechua village
Hiking opportunities in Huascaran National Park with local guide
Dates: 1 – 15 August 2015
Price: Our price: $1200 per student, plus cost of airfare and travel insurance*
For more information: www.living-change.com and www.kawaymonti.org/living-change
Contact us at [email protected]
Itinerary**
Day 1: Travel to Huaraz. Meet for breakfast in Miraflores, Lima. Private transport to bus company, and bus to Huaraz. Sleep the night in a hostel in Huaraz to rest and adjust to altitude.
Days 2-3: Observing and Grounding.Private transport from Huaraz to Ka'Way Monti School for Sustainability. Welcome time: get to know each other and settle in. Introduction to the land, the community, and principles of permaculture.
Days 4-8: Walk the Talk. Dive into the core of our experience. We begin faster-paced, practical activities, getting our hands dirty. Enter into deep discussion about consumerist culture, globalization, global vs. local, Expand permaculture knowledge, learning basics of zoning, micro-climates, food forests etc. Community circle becomes more dynamic, as we deal with new topics that arise from living together as a community. Identify what we can contribute to the local village with our group's expertise.
Days 9-10: Weekend retreat in nature. Hiking opportunities in nearby Huascaran National Park with local guide.
Days 11-12: Service project in local village. Work together in Llupa to complete student-led service project.
Day 13: Skillshare Day. Day for sharing your knowledge with the group.
Day 14: Personal reflection and preparation for future. What is your calling? Reflection on how your perspective fits into the larger picture. Gather knowledge learned in our time together. Preparation for future: what to do with knowledge learned and how to integrate it into your return home.
Day 15: Course Closure: Final presentations, and closure of course. Goodbye dinner. Private transport to Huaraz, and night bus to Lima.
*Please note that students need to provide their own transport to and from Peru, and organize their own travel insurance.
**Please note that itinerary is subject to change.