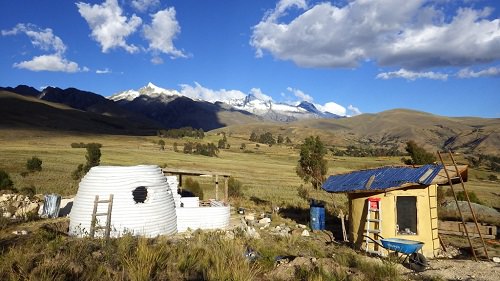 Ka'Way Monti, meaning "Tree of Life" in Quechua, is a non-profit in Peru founded with recognition of the need to bring humanity back into balance with nature, and the tremendous capacity for humanity to do good work. In aspiring to live up to its name, Ka'Way Monti (KM) consists of two main branches; KM School for Sustainability (KMSS), and KM Local Vitalization (KMLV).
The vision behind creating the Ka'Way Monti School for Sustainability (KMSS) embodies the overall vision of Ka'Way Monti (KM) itself. KM envisions a network of thriving, spiritually conscious communities that embody ecologically and socially harmonious ways of life. KMSS, and its permaculture and natural construction curriculum, play a vital role in creating the space to study and practice the means by which we can actually manifest this vision.
Founded by Chris Dyson in November 2012, under his direction, with the assistance of volunteers and guest teachers, the school quickly became known with enthusiasm to be a fixture amongst the locals in Llupa. The courses have been held at The Hof Hostel in the municipality of Llupa within the district of Independencia, near the city of Huaraz on the western slopes of the Cordillera Blancas of the Peruvian Andes. Given that Ka'Way Monti has been conceived by immigrants who came to Peru looking for new ways of living, one of the key principles has been a harmonious integration into what already exists in the region.
Community Keywords: Personal development; Community; Empowerment; Nature Respect; Permaculture; Natural Building
Check out our website at www.Living-Change.com for our exciting new leadership, community and sustainability program, happening this August 2015!
Living Change: Crafting Leaders for the Emerging Future.
(You can also find the information on our regular website, www.kawaymonti.org/living-change)
Site content by Ka'Way Monti
Events
Living Change: Crafting Leaders for the Emerging Future. Be part of our summer program this August 2015! We are a leadership program aiming to inspire & empower the next generation of leaders looking to create positive change. Learn to take leadership of our lives, in our communities, and how to bring that practical knowledge home with hands on understanding of local and global sustainability. We aim to send out more empowered, conscious, young leaders into the world for co-creating … Read more