Celebrating with you GEN's first Permaculture Design LIVE Online Course – facilitated by Andre Soares and co-facilitator Lucy Legan, co-founders of the Ecocentro IPEC in Brazil and Global Ecoversity – which turned out to be a great success. The next offering will start on the 7th of May 2022.
Lead facilitator Andre Soares has been teaching permaculture education for 24 years all over the world – ranging from Australia, USA, Portugal, Spain, Haiti, Argentina to Brazil.
Traditionally, PDC's are taught in 72 hours residential courses over the period of two weeks. Through this new online PDC, Andre and Lucy could bring in their extensive experience to host and serve an inspiring group of participants joining from all over the world!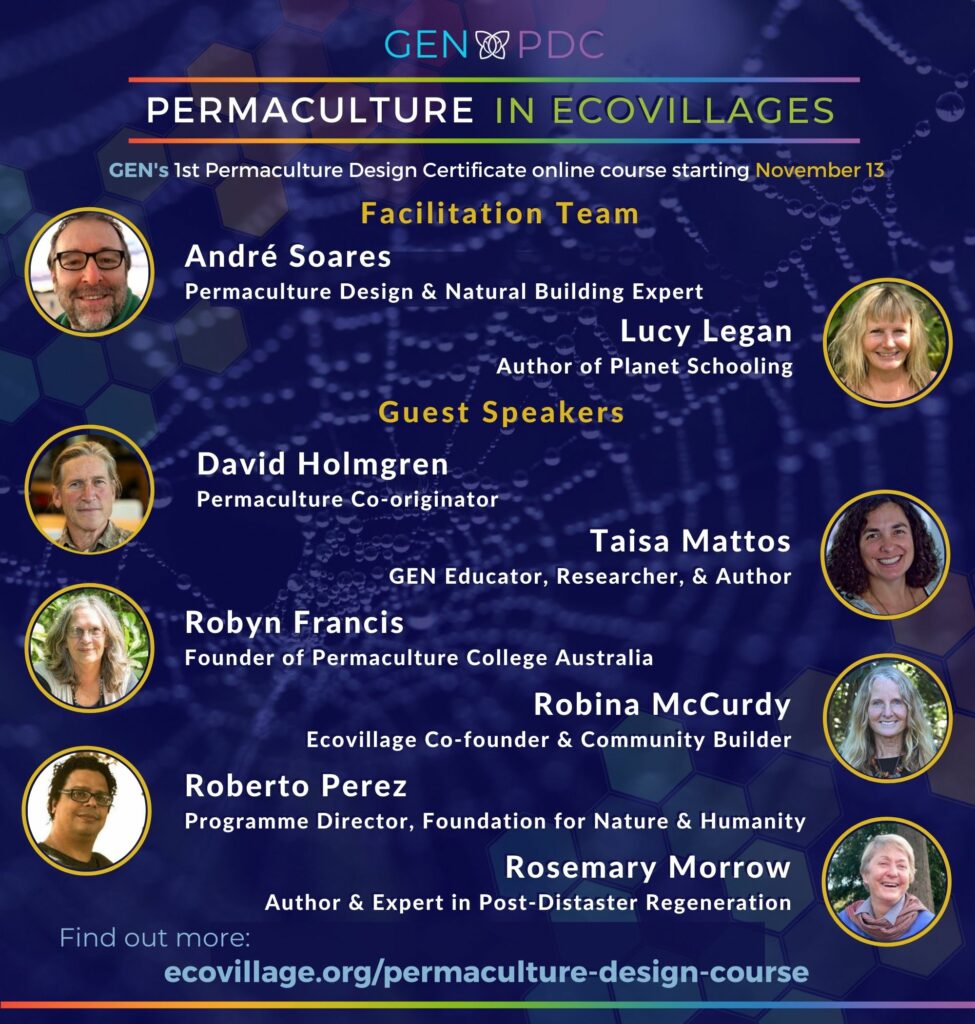 They were supported by an amazing group of well-known guest speakers and permaculture teachers: Taisa Mattos, David Holmgren, co-founder of permaculture, Rosemary Morrow, Robyn Francis, Jaye Irving, Roberto Perez Rivero and Robina McCurdy.
Hosting a PDC online made it possible to take the usual learning experience one step further: decentralised online learning enabled participants to learn at a slower pace, connect more to their local environment by creating their own permaculture design projects, while at the same learning from experienced permaculture design teachers from around the world and sharing experiences with a global learning community.
This has been so much more than the PDC I anticipated participating in. It has been so good to glimpse the diversity of our life situations – and our own very individual applications of permaculture. We have so much common ground too and to share on so many levels, to feel connected, is wonderful.

Louise Halloway, PDC participant

The group was composed of 45 participants. The oldest one was 73 years old and the youngest one 18, including very diverse backgrounds and motivations to learn and apply permaculture skills. The multicultural cohort enriched the content immensely by bringing in questions and contributing their different realities from more than 15 countries. A vibrant community emerged amongst our global group of participants, sharing their ideas, challenges and permaculture enthusiasm.
Throughout the course, each participant was working on an individual design project that was presented at the end of the course. The opportunity to interact with experienced permaculture designers from around the world gave a foundation for many participants to feel well prepared and propose ambitious projects of regeneration. Here is one amazing example of a final design project created by Albena Spurling from Bermuda:
If you are curious about other final design projects that were created by PDC participants of the first cohort, keep an eye on our Facebook, Instagram, Twitter and LinkedIn pages where some of them will be shared soon!
One key success factor of the course was the very lively and committed interaction and engagement of the group, during the live calls and within our online community platform. Self-organised study groups were formed to reflect and share experiences, challenges and insights with each other.
Short term residential courses often only offer the possibility to work on design projects within the demo site which can lead to a sense of loss and confusion after the end of the course. In this online PDC, the longer period of learning and working on real, personal projects helped to integrate and digest the vast content, readings and extra references more deeply. This was also reflected in the quality of final design projects which were presented in the last session of the course, showing a deeper knowledge and flexibility to apply and adapt the learning to local realities.
With more than 1000 people registered for our two free Permaculture webinars before the course started, we have seen a great interest and enthusiasm to learn permaculture design skills to create regenerative futures.
In our upcoming GEN summit, amongst many other inspiring speakers, lead facilitator Andre Soares will be present! As the summit is designed around the map of regeneration, there will be one whole day focusing on the area of "ecology". If you are interested in learning permaculture design skills, you are invited to come and meet Andre there! For more info about our upcoming GEN summit, stay tuned on our Facebook, Instagram, Twitter, LinkedIn pages or our Newsletter.
With this first online PDC coming to an end, we are celebrating that the art of teaching permaculture has been given a push forward. We have been leveraging the possibilities of online learning to give access to permaculture skills to a global network of participants who will be making a difference in their own lives. By accident or serendipity, we might have struck a note of global hope here.
Future Permaculture Design Course (PDC) offerings with GEN
If you are inspired by our first online PDC and interested in future offerings and GEN's second PDC – to be launched on 7th of May 2022 – you can find more information and the registration form here. The 20% early bird discount still runs until 15th of March!