What matters the most is that the lands are healthy, the water is pure, the wind is free from viruses, and the human beings are at peace with themselves.
– Calixto Suarez, Chief Elders of Arhuaco People, Colombia
It is with great satisfaction that we release the Global Ecovillage Network Annual Report 2019. Our staff, partners, and members are diverse, creative, and driven by passion and commitment. We strive to ensure our projects and programmes are engaging, impactful, and contextually relevant.
When we reflect back on our accomplishments of 2019, we hope to ignite these qualities in our readers as well. Our annual report provides metrics, as we measure and track our progress and set new targets for the coming year. It also encompasses stories, bringing together perspectives from across the globe woven into our collective narrative.
From participating in the United Nations Conference of the Parties (COP25) to engaging 20,000 people with the wisdom of 30 activists in our free online summit, from providing training across continents to hosting innovation labs in the global North and South, GEN continues to engage with a network of dedicated change-makers towards a regenerative world.
Whether you read our 2019 Annual Report cover to cover, dive into one region or focus area, or simply flip through and land on a page, we hope you'll connect with our vision and feel compelled to join us in our mission.
If there is a little bit of hope – an ember of hope – I am going to blow on it and try to start a fire.
-Albert Bates, The Farm
Access the Global Ecovillage Network Annual Report 2019:
Contents
The Global Ecovillage Network is rich and diverse, like any healthy ecosystem. As such, it is not surprising that any structure or order can only be offer an approximate map of the territory of GEN.
We have organized the content of this Annual Report into different sections to ease your reading and trust you will enjoy the journey.
Section 1 is dedicated to an overview of GEN and the core frameworks that GEN works with. This section also reports on GEN's work in 2019 as a Scottish Charity that interlinks all parts of our global networks, and includes details on GEN's targets for 2019, key performance indicators, highlights of the year, financial summary and team.
Section 2 showcases highlights of the work accomplished by GEN's five Regions and by NextGEN, our youth arm, celebrating the cultural diversity of the journey towards low impact, regenerative lifestyles around the planet.
Section 3 looks at scaling up community-led implementation of the UN Sustainable Development Goals and the Climate Agreement through GEN's five Ecovillage Programmes.
And finally, in Section 4, we invite you to get involved and join us, if you have not already, by visiting an ecovillage, attending a training, becoming and Ambassador or Friend of GEN.
Enjoy!
Measuring the Impact of Ecovillages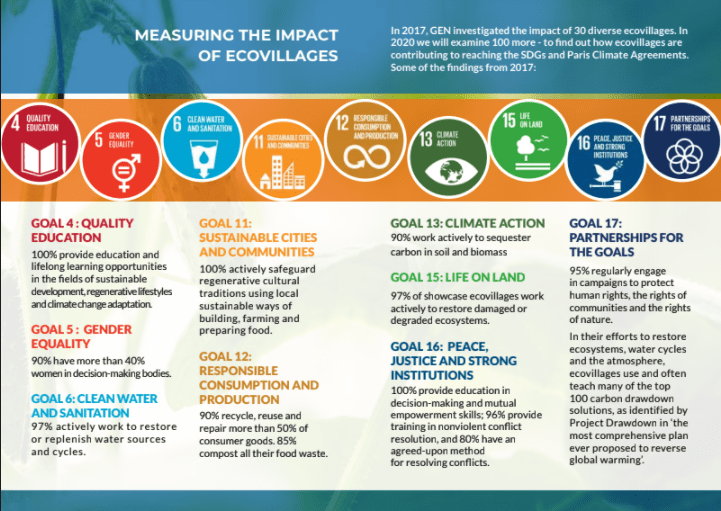 It's time to realize that the environmental crisis and the inner crisis are two sides of the same coin. We, humanity, are a central cause of these disasters. In the same way, we could also be the source for their healing.
-Sabine Lichtenfels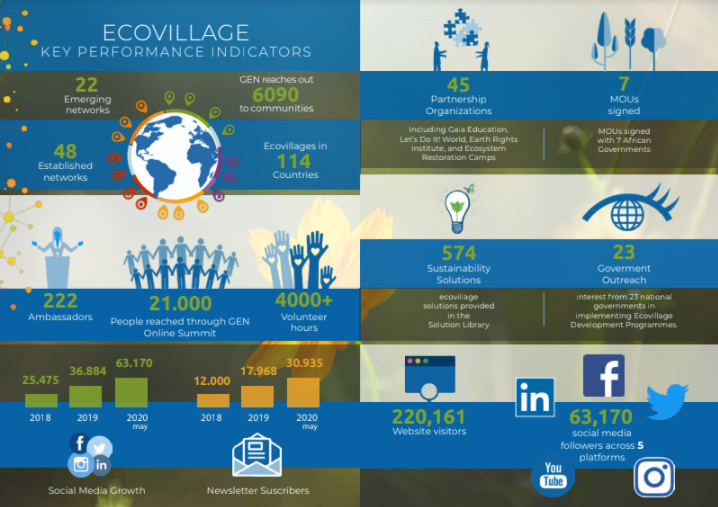 When you come home to yourself, you begin to realise that the world we live in is stunningly beautiful.
– Angaangaq Angakkorsuaq, shaman and healer of the Far North from Kalaallit Nunaat, Greenland.

Previous Reports
Learn more about the Global Ecovillage Network by reading our previous annual reports, constitution, and other core documents.
Engage with the Global Ecovillage Network
Now more than ever, we need to connect as a community and stand in solidarity to create the beautiful, interconnected world we all want to live in.