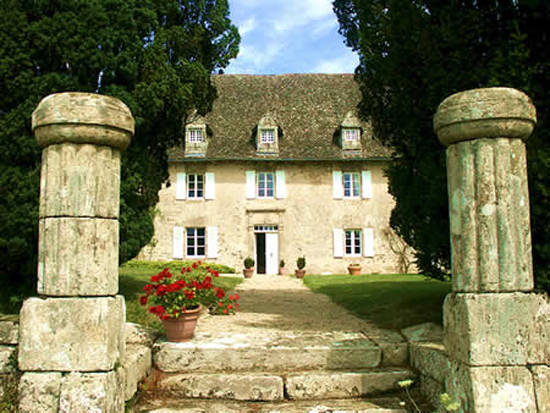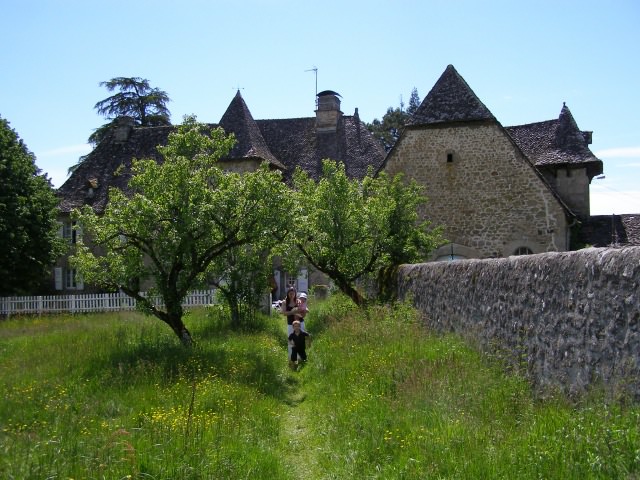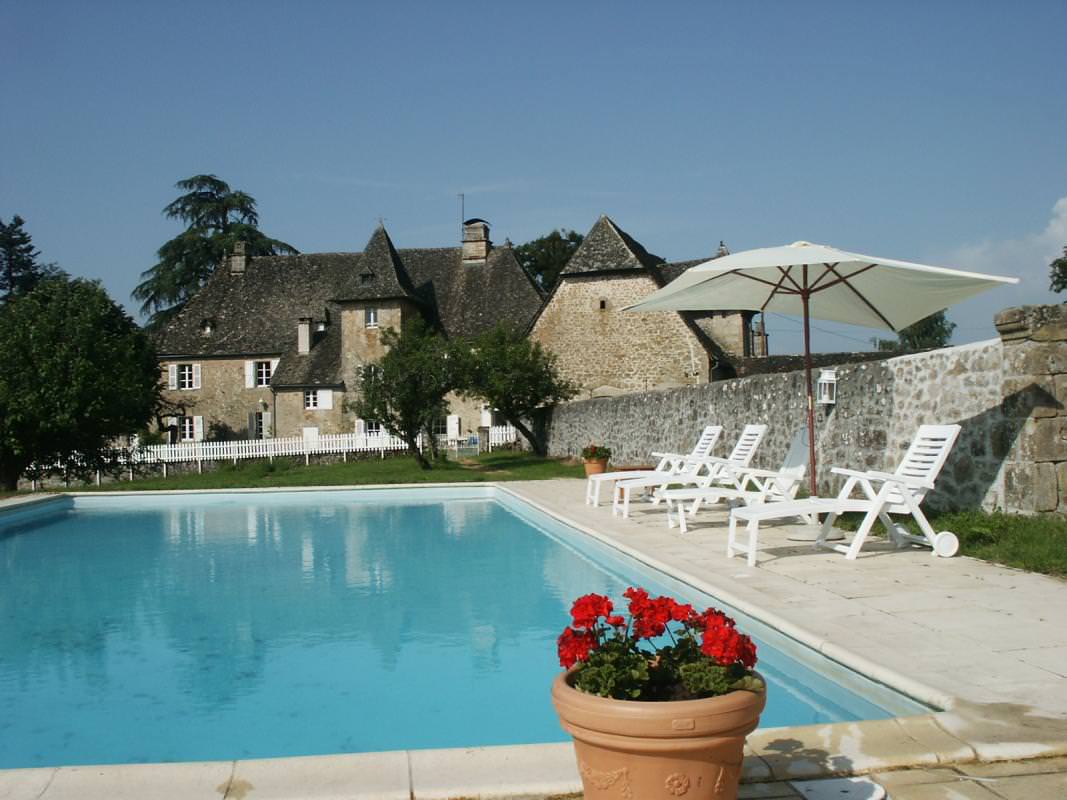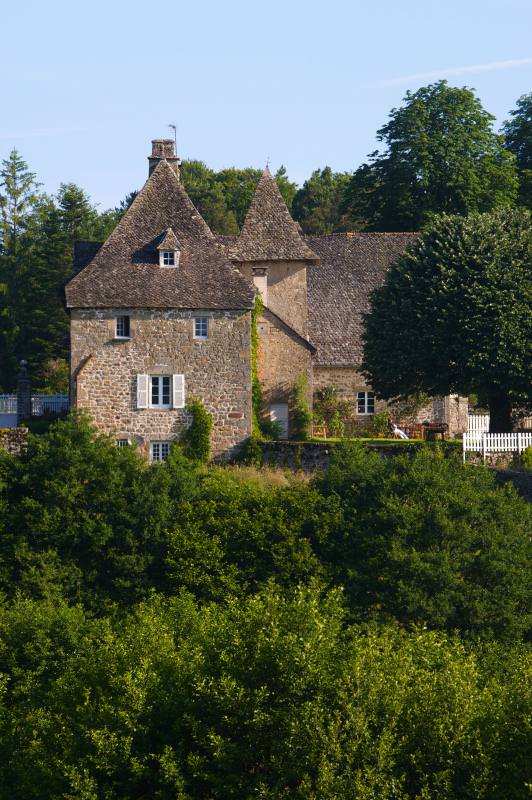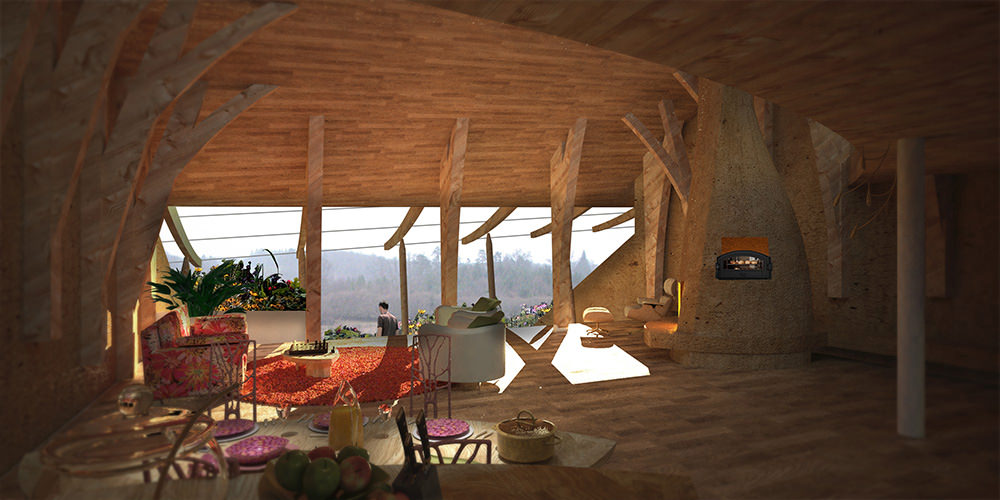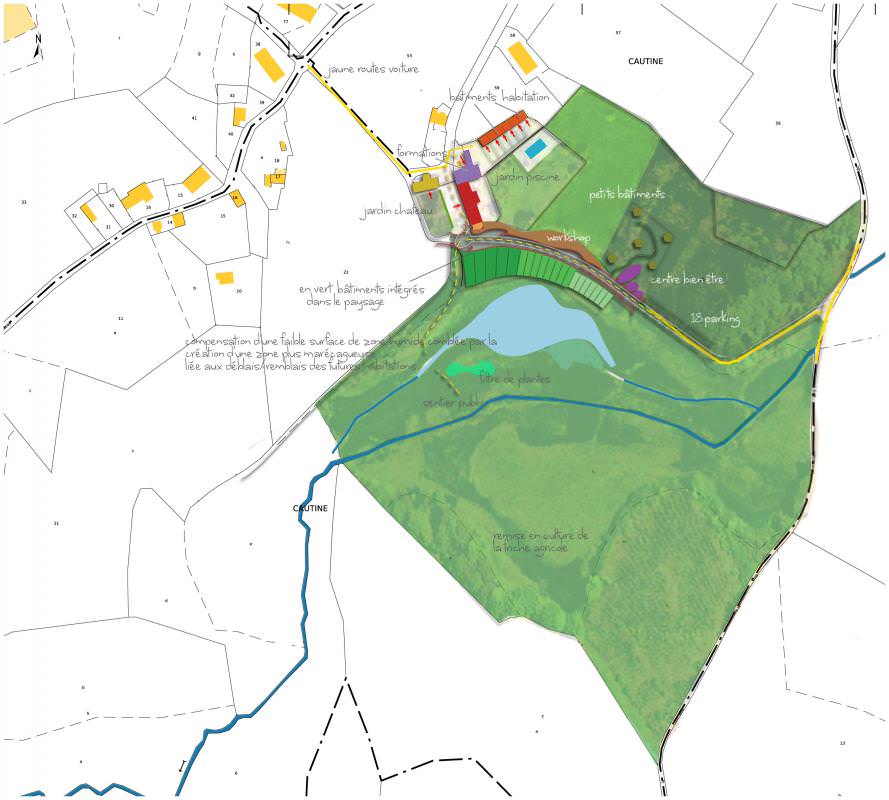 Introduction
We are developing a unique eco village, built around a 17th century chateau estate in rural France with 13 hectares of land. The concept is to create a prototype eco village cooperative that can be replicated in any location or country; they will be built within the context of beautiful settings which are off grid and self-sustaining in food, water, energy and finance; they will contain a central village hub which will act as an income generator for residents and they will offer beautifully-designed, affordable homes that provide a high quality of life in combination with a very low cost of living. They will be available for permanent residency, holidays or rentals. These will be landmark eco villages that have broad appeal.
The first eco village, Eco Chateau de Cautine, has been 6 years in the making and has achieved the necessary official authorizations, market research, planning and designs. All contacts are established for an immediate start, including a waiting list of people wanting to join. The chateau has been run successfully as a 20-guest venue for events and holidays for the past 6 years and demand is high as an ecological venue for weddings, events, seminars and workshops. The creation of additional chateau accommodation for guests, as well as a multifunctional space for workshops, seminars and weddings will open the property up to a large 'niche' market. Following the investment planned for 2016 & 2017, facilities will include off-grid accommodation for 40+ visitors, two multi-functional workshop & theatre spaces, an organic restaurant, a small spa and year-round heated swimming pool. Between 2018 and 2020, approximately twenty eco village houses and studios will be built.
We are now seeking partners to develop this first prototype eco village, Eco Chateau de Cautine. If you would like to be part of this exciting venture and if you believe in great possibilities for the future of sustainable living, then please join us.
Overview
Our model will address the lack of well-planned, affordable, 'turnkey' eco villages on the market today; villages that include all elements of human needs within an integrated design. Eco villages, if well structured, are the perfect solution to the crises we face in modern life. The concept is not new and their appeal is increasing in direct proportion to the stress and failures of modern day society. An eco village seems like the ideal solution to the problems that plague us. However, in reality, there are few that appeal to the majority of people. The current options available include faith-based eco villages or those which are self-starting by groups of people without experience or skills in the setting up of such a complex structure. All these factors lead to mistrust of this model as they can often fail.
There does not seem to exist a safer, middle way, a way that does not involve taking huge risks, which is not based on a belief system or a well-intentioned, ad hoc structure. Our mission is to create this middle way.
The key elements of the first eco village, Eco Chateau de Cautine, will be:
• A Learning and Cultural Centre
• The chateau property for visitors – elegant, historical and set within beautiful, established grounds
• Affordable, ecological, well-designed off-grid homes that are comfortable and highly aesthetic
• A 'whole-site' plan for water, energy and heating
• A self-sufficient food production plan
• A clear management and financial plan for the start up and ongoing running of the village based on a cooperative model
• High quality onsite facilities
• A strong plan for the village micro economy
• Low cost of living
• High quality of life
• Ethical foundation
The Learning & Cultural Centre
This will be a landmark of independent creative education and culture, funded by people for people. Combined with unique onsite visitor accommodation, a restaurant and spa, it will be a beacon and magnet for visitors from around the world.
The Eco Village Housing
This will offer 'off-grid' living in individual homes, surrounded by the landscape of nature and built around the central chateau hub.
Outline plans and official permissions are ready for several off-grid, eco-homes built from local natural materials, straw, cob, wood and stone, as well as recycled materials, to blend into the natural and historic landscape surrounding this ancient chateau. A row of 'hobbit' houses and studios on the south slope of the chateau will be almost invisible within the landscape. A traditional row of cottage houses and barn houses will blend with the chateau style and small, individually designed cabins will lie within the forest.
Residents will have access to the dynamic of cultural and creative activities, ecological tourism, alternative education, and health & wellbeing activities. Gardens, based on the principles of permaculture, will provide healthy, onsite, year-round food and enjoyment. The village will be managed and run by resident owners
The eco village will be a showcase for low-cost, simple sustainable technology within a clear 'whole-site' plan for water, energy, heating and food-growing, reducing consumption without compromising quality or comfort and allowing the village to be off-grid. There will be communal space for residents for gatherings and activities.
The gardens and lands will be designed and managed on the principles of permaculture, with many examples throughout the property of innovative ways to create harmony and abundance in food production within and amongst existing eco- systems and homes. Methods of building and managing day-to-day life, using recycled materials wherever possible, will create models of inexpensive and simple ways to live sustainably.
The Legal Structure of the Village
The Eco Village Development Company, a UK based Limited Company (Community Interest Company with limited profit share) will own and manage the development of the Eco Chateau de Cautine eco village between 2016 and 2017. The specific goal of this company is to develop a full 'turnkey' eco village framework for this and other eco villages. Once all plots and shares are sold, the property ownership and management will be transferred to the Eco Chateau de Cautine Cooperative, comprising resident and non-resident members. The Cooperative will then build the individual houses and develop the eco village within the framework and in line with the whole site plans.
The Ethics
The main ethical principles of Eco Chateau de Cautine will be 1) treating others as you would like to be treated, and 2) harmony with the natural world.
The Project Founder
The founder & director of this project, Ruth Phillips, is an educationalist, social entrepreneur and hospitality specialist with a successful track record of innovation and project creation. She is passionate about creating practical, real-life, solution-based models, which are oriented towards people, education and the betterment of society.
The Project History
Ruth has lived and worked at Chateau de Cautine during the past 6 years, successfully running the property as a 'gite' and learning centre and increasing the turnover by 20% each year. She has developed a strong knowledge base, local and regional contacts and a client base in the key areas required to start this eco village. She has written a full business plan to cover the first 5 years of the project and created a colour brochure of the first-stage eco village plans and designs. Partnership with an experienced French property developer is in place and the founder has developed an important expertise in all matters relating to eco village design, context, demand, philosophy, technology and agriculture following 6 years of research and planning.
After a wait of 5 years, the project has achieved the 'miracle' of exemption from the strict planning laws, which exist in this region, and has 'whole project' approval at the regional level for the construction of the eco village on the Chateau de Cautine property. Detailed house designs will be submitted in February 2016 for the planning permission required before building can begin. This permit is for the details of the whole site plan and house designs and risks only a delay in case of requirement to modify elements. There is no risk of refusal as the project has already received the required global approval.
Ruth has completed a pre-start up phase comprising, market research, open days and visits from over 600 visitors with expressions of interest forms received from over 250 people, financial & management planning, house & site designs, an environmental impact study, networking and support. We currently have 9 people who are keen to join the eco village when plots/shares become available over 30 people awaiting further information/details of joining, as well as 15 people on the waiting list for open days. All this has been achieved with very little marketing on a tiny budget. Communication channels are in place via a mailing list of over 1,000 people, 3 Facebook pages, two in English with 148 members & 264 likes and one French page with 215 likes; an Eco Chateau Blog with 16,196 followers and a number of videos on Youtube. The basic elements are therefore set to launch the next stage of communications swiftly and easily.
Interest in living and working in this village over the past 5 years has come from teachers, artists, artisans, organic agriculture specialists, eco-builders, dancers, musicians, potters, chefs and a range of professionals from accountants & successful entrepreneurs to astrophysicists and engineers. The majority (65%) have been French with the remainder coming from the U.K., Belgium, Holland and Germany as well as a few from Canada, the U.S. and South Africa. The age range has spanned from young and middle aged singles and couples to families with children and open-minded 60+ people who are seeking an active retirement. Market statistics and our own experience show that there is a sharp increase in demand, despite the global economic downturn, for ecological housing and tourism, rural living, learning holidays, natural and local food as well as the rapidly growing personal development & natural health market.
The project has started to engage with the local area, the councils and mayors to partner with us in promoting ecological tourism for the whole region, which is one of the least polluted and least populated parts of France. We have submitted a grant application which is currently being considered.
The First Stage 2016-2017
The project will be developed to include the site works, management and financial plans, food growing plans, energy and water plans and human relations plans for the Eco Village Cooperative. Architectural house designs will also be created. The sale of the whole property to those who wish to live and work in the village will be completed
The Second Stage 2018-2020
The whole property will be handed over to the Eco Chateau de Cautine Cooperative of resident and non-resident members who will manage and run the house building and completion of gardens and works.
We anticipate the whole village will be running with all residents housed by 2020.
Thank you for reading our presentation. We are launching a crowdfunding campaign to raise the necessary start up funds in June, 2016. If you would like to be involved, please see our website for more information and a copy of our Project Summary. A full business plan is available on request. We look forward to hearing from you!
Participation info
New members: Searching
New collaborators: Searching
We are developing this project in a 2-stage process. Stage One - invest in the development 2016-2017. Stage Two - buy a share and/or plot in the eco village 2018-2020. Part self-build options and turnkey options will be available for houses. Investors in Stage One will get preferential choices of plots at discount and the opportunity to apply for work positions during the development stage. We are seeking those who are interested in joining the eco village or supporting the development to invest in the first stage. To find out more, please visit: http://www.eco-chateau.com/investment.htm to download a copy of our Project Summary. A full business plan is available on request. We are seeking expressions of interest to be received by May, 2016. Open weekends will be held at the chateau for investors during May. A crowd funding platform will be launched in June, 2016.