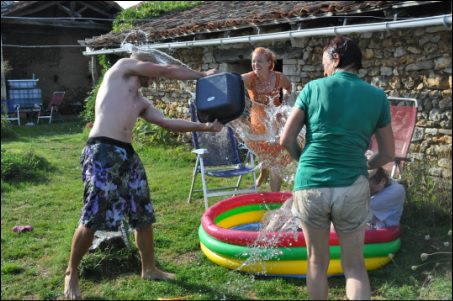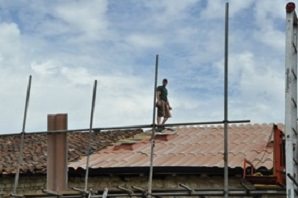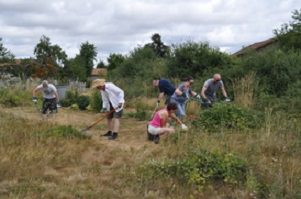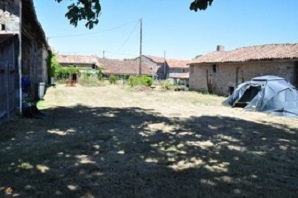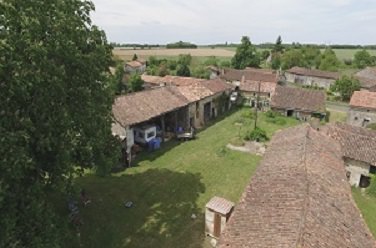 Sunflower Cohousing currently has four members, and we are looking for others to join us in an environmentally conscious cohousing project.
Our aims are: ᅠ
TO LIVE A HEALTHY, MUTUALLY SUPPORTIVE LIFESTYLE. ᅠ
TO LIVE A SUSTAINABLE AND LOW IMPACT LIFESTYLE. ᅠ
TO WORK TOWARDS ENCOURAGING OTHERS TO UNDERSTAND THE COMMON SENSE APPROACH TO THE ABOVE. ᅠ
We have recently purchased a property in a small hamlet near Champagne-Mouton in France, where there is an infant's school, doctor, pharmacy, post office, and supermarket. The property comprises a modernised 2-bedroomed house, with stone barns on both sides and a hangar, all facing into a central grassed courtyard.
We have started to convert one of the barns into 2 small, self-contained cottage-style houses. We also have consent for 3 additional houses, and plans for 2 larger family dwellings. Each house will have its own private garden space to the rear, and a semi-private patio area to the front, facing onto the courtyard. The new houses are all highly insulated, with solar heating pipes under the tiles of a sealed roofing system, and with wood-fired back-boilers producing heat and hot water from regenerative sources.
One section of the barns will house a community building, with a larger kitchen and dining/meeting area, craft room, a laundry, office space, and additional bedroom space for visitors. There is also an existing workshop area, machinery bay, and garden tool workshop, all of which will be incorporated into the community space.
We have started to create a community vegetable garden (our potager) and a new orchard in an adjoining 4 acre field which is also owned by the community. We intend to keep a small selection of livestock on this field, to complement the chickens and geese that already share our space.
We are working towards an ecologically friendly lifestyle, and to be self-sufficient where possible, but we also recognise that true self-sufficiency is very labour intensive, and so we try to achieve a sensible balance in order that we may also enjoy life. We have a range of systems already in place – composting bins, worm bins, aquaponics, vegetable and fruit production – and are constantly looking at ways to improve upon our arrangements but also to minimise our impact on the surrounding countryside.
Between us, we have gained experience in developing permaculture systems and organic practices in the UK and Spain, in both wet and arid conditions and would be looking to introduce and expand upon those techniques as part of the production of food for the community. We also have a wide range of practical and creative skills, such as building, IT, animal husbandry, fleece spinning, weaving and knitting, willow weaving, preserving, sewing, dying, and basket making.
We are growing the majority of our food (vegetables and fruit), but we do eat meat, and intend to keep animals for food – we also intend to 'farm' fish as part of the aquaponics system.
We are looking for others with a similar outlook on life to come and join us, and membership is open to both investing and social members.
The community property is owned in the name of a French Société Civile Immobilière (similar to a non-profit-making limited company) and each investing member would hold an equal shareholding, having equal financial commitments to the community, equal rights, and equal liabilities to the value of their shareholding. Social members would be charged a commercial rent on the property that they occupied. We are not seeking to profit from our involvement to date, and would only be looking for individuals/couples to match our own investment.
We envisage that an individual might be asked to contribute circa 98,000€, which would give them an equal shareholding in the community property as a whole, and would cover the cost of providing a half-share in a dwelling, which would be occupied under a separate tenancy agreement at a basic rental which would vary slightly according to the size of the dwelling. A commercial rent would be charged on the other half-share of the dwelling, unless the dwelling as a whole is occupied by two investing members living together. As more members join, it will be possible to spread the cost of the initial purchase amongst a larger group, and as such, we anticipate being in a position in the future whereby the SCI will have surplus funds which can be re-distributed amongst all, bringing down the long-term investment to circa 60,000€ per person.
We also intend to create a non-refundable reserve fund with 5,000€ of the initial 98,000€ investment which would be held in a separate account and which could be used to assist with unforeseen eventualities and/or the buy-back of a shareholding subject to the agreement of all investing members. Social members would have an equal say in the day-to-day running of the community, but would not be entitled to a vote on capital expenditure.
Membership & Visitors
See our website page: http://www.sunflowercohousing.org.uk/faq-for-potential-investors.html