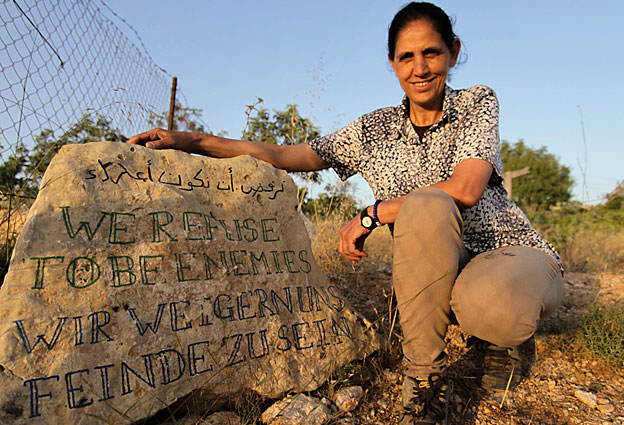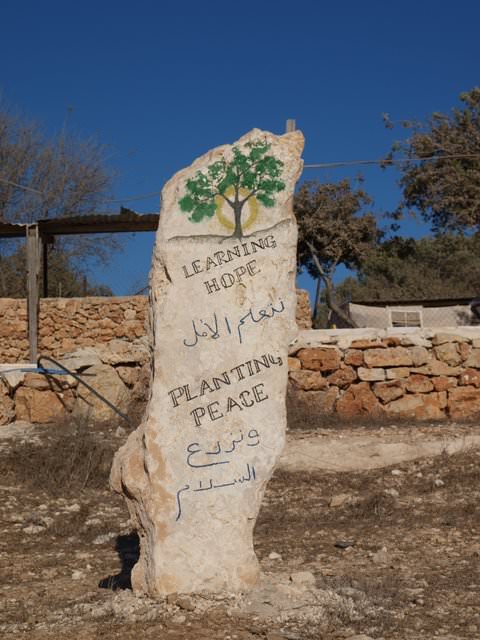 At Tent of Nations, we seek to bring people from all over the world together to build bridges of understanding; connecting people to each other, and to the land to which we all belong.
We offer workcamps and volunteer opportunities; we run Children's Summer Camps and a Women's Empowerment Project, and we welcome groups and visitors of all shapes and sizes.
The organic farm on which the Tent of Nations project is run is known as 'Daher's Vineyard'. This land, which stretches to 100 acres, is owned by the Nassar family and is situated 9km southwest of Bethlehem. The family have been fighting a legal battle to keep hold of the land since it was classified as 'Israeli State Land' and thus threatened with confiscation in 1991. The struggle is ongoing. However, with a commitment to peaceful resistance and through the solidarity of those who have visited the land, much has been achieved. Tent of Nations continues to work to protect and develop the farm as a place where people can meet, learn, work together and inspire one another.
At Tent of Nations we seek to embody an approach to conflict and occupation. Faced with great injustice, we know that we do not need to hate, we do not need to despair, and we do not need to flee. We can refuse to be enemies and channel our pain and frustration into positive actions which will build a better future.
We aim to help the oppressed and marginalized to be conscious that they too are powerful. We all have a role in creating the future we want to see. At Tent of Nations we seek to work with others in the local area to lay the foundations for a future Palestine, in the belief that justice and peace will grow from the bottom up.
We work to reconnect people with the land. Through mixing our hands with the soil, we learn to value and understand the significance of our environment.
We are working towards becoming completely self-sustaining with regard to food, water and electricity, and we hope in the long-term to be able to support other local projects with proceeds from our farm produce. Our future vision is to create a vocational training and education centre on the farm which will provide a space for children and young people to learn about alternative energy, organic farming and community building. We hope, ultimately, to be able to prepare the young people of Palestine for a positive contribution to their future and culture by bringing values of tolerance and understanding into their life experience, and to facilitate a respect for the environment by increasing awareness of our reliance on the land. In moving onwards with the development of this vision, we look forward to continuing to welcome many more volunteers and visitors to Tent of Nations, and continuing to teach hope and faith in action to an international community.