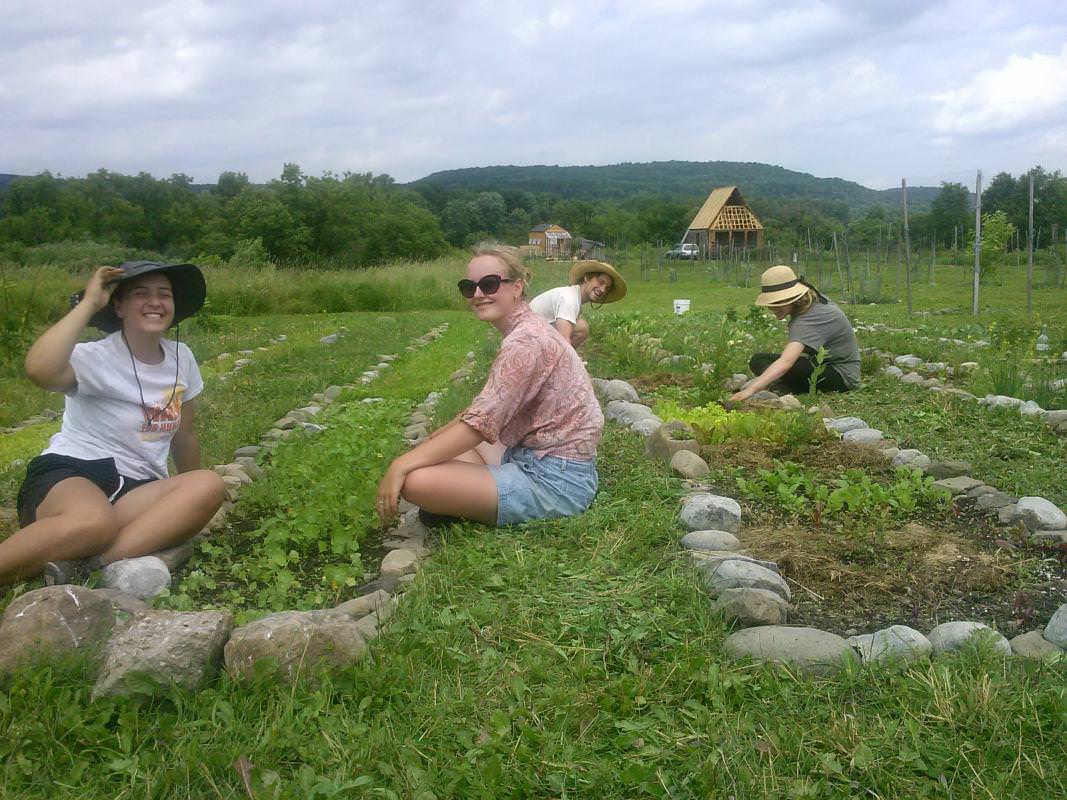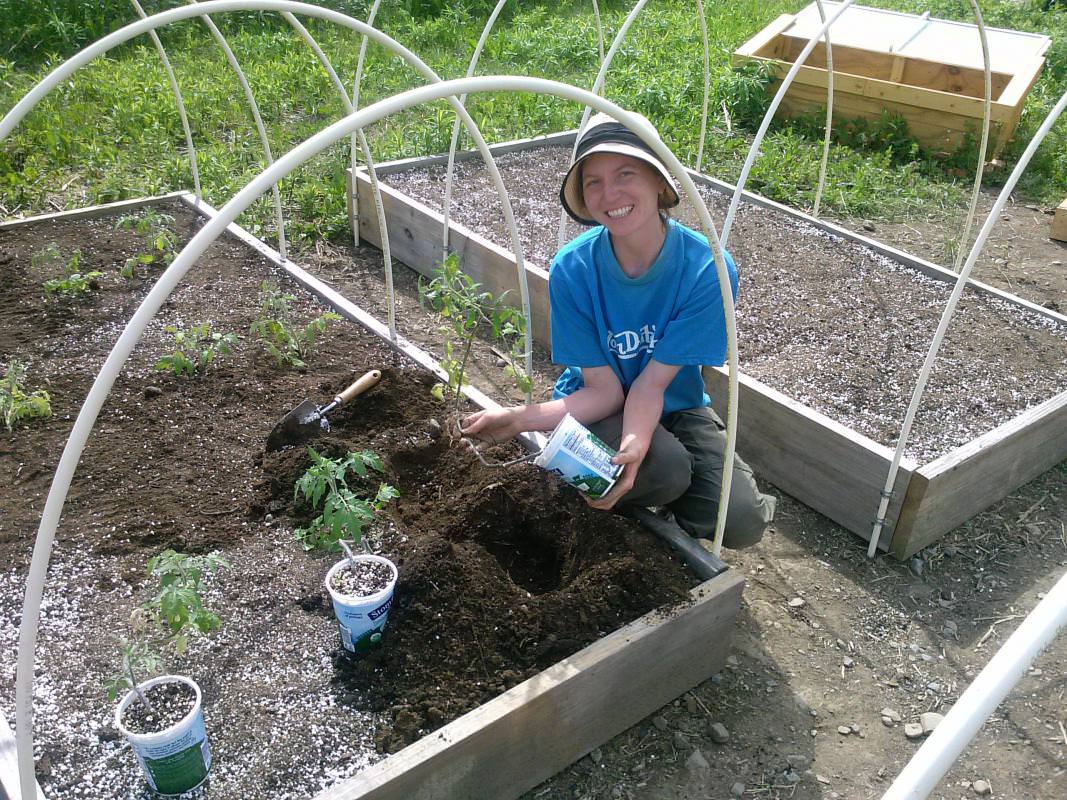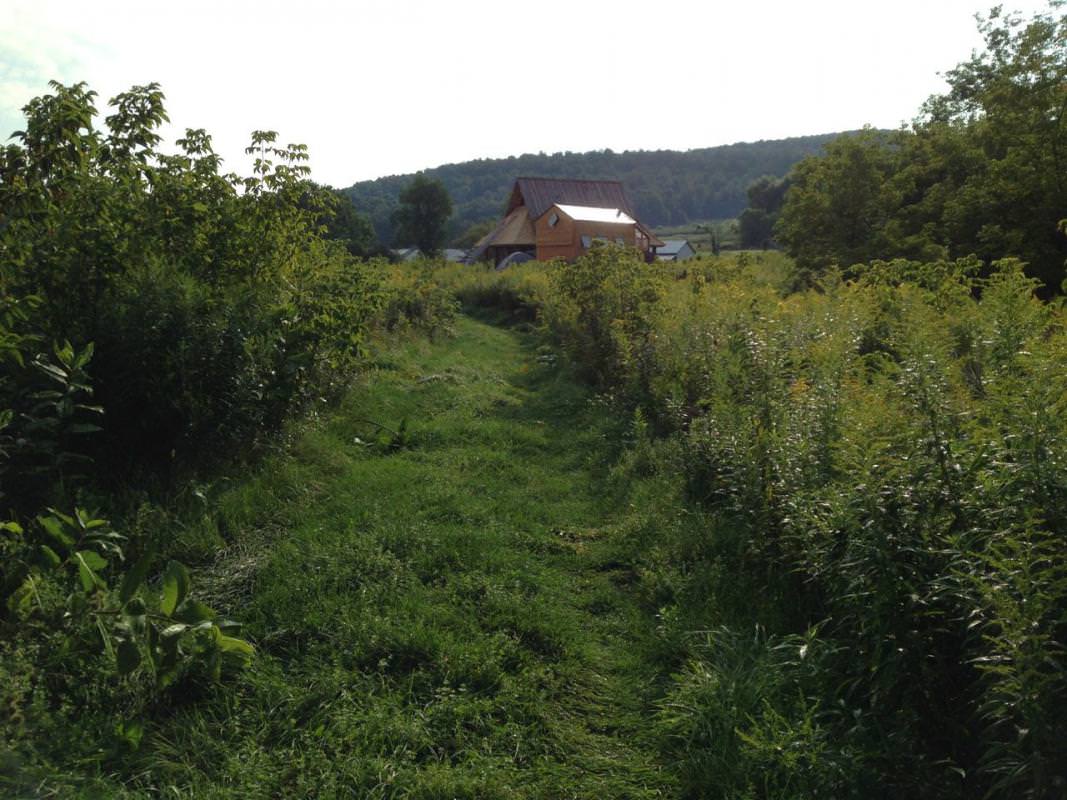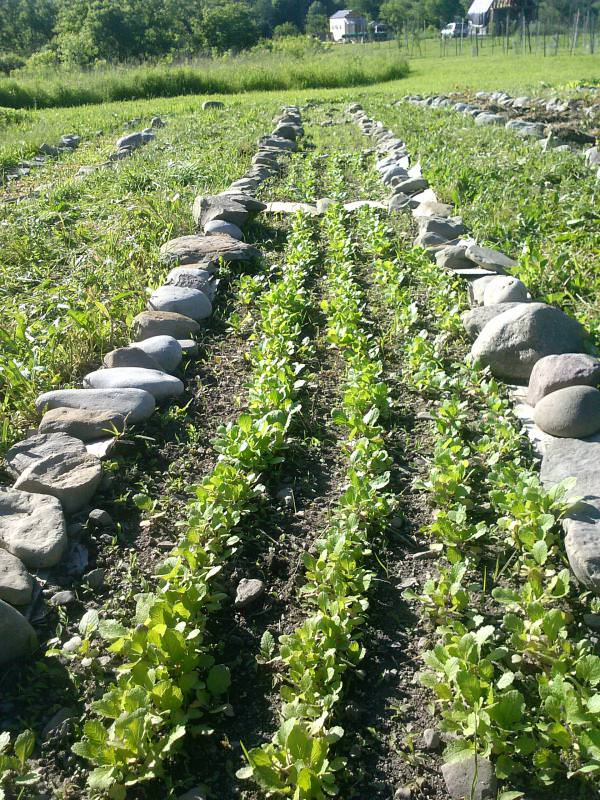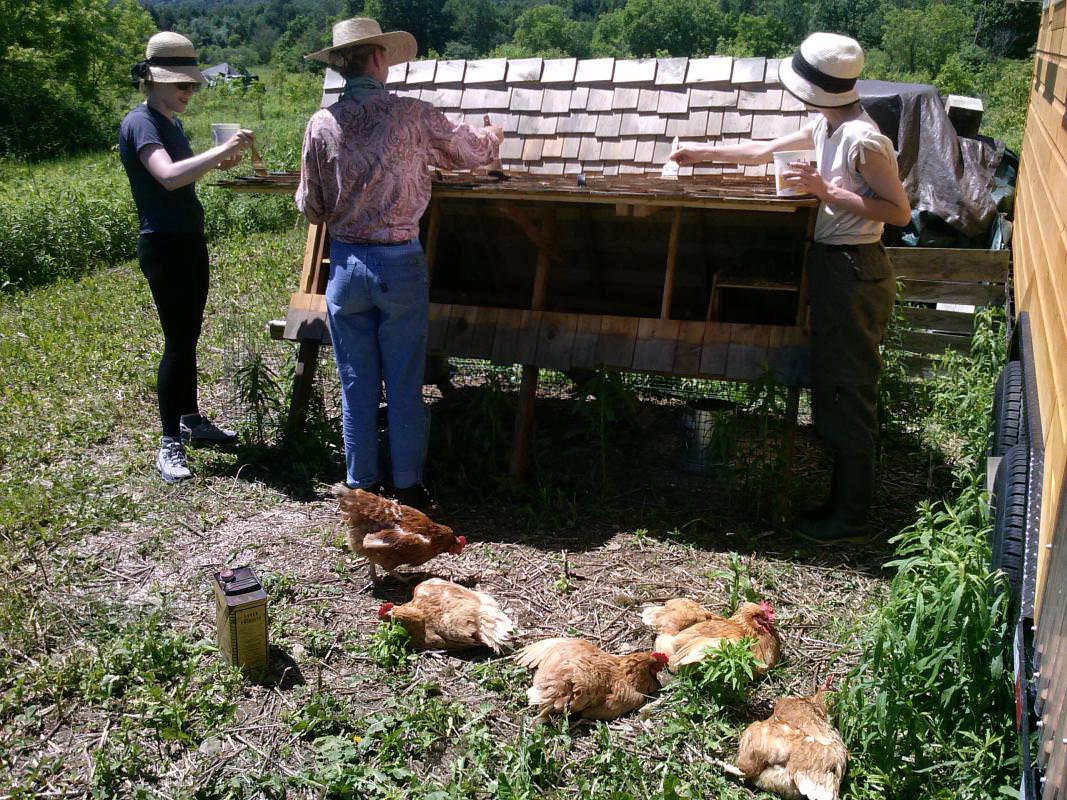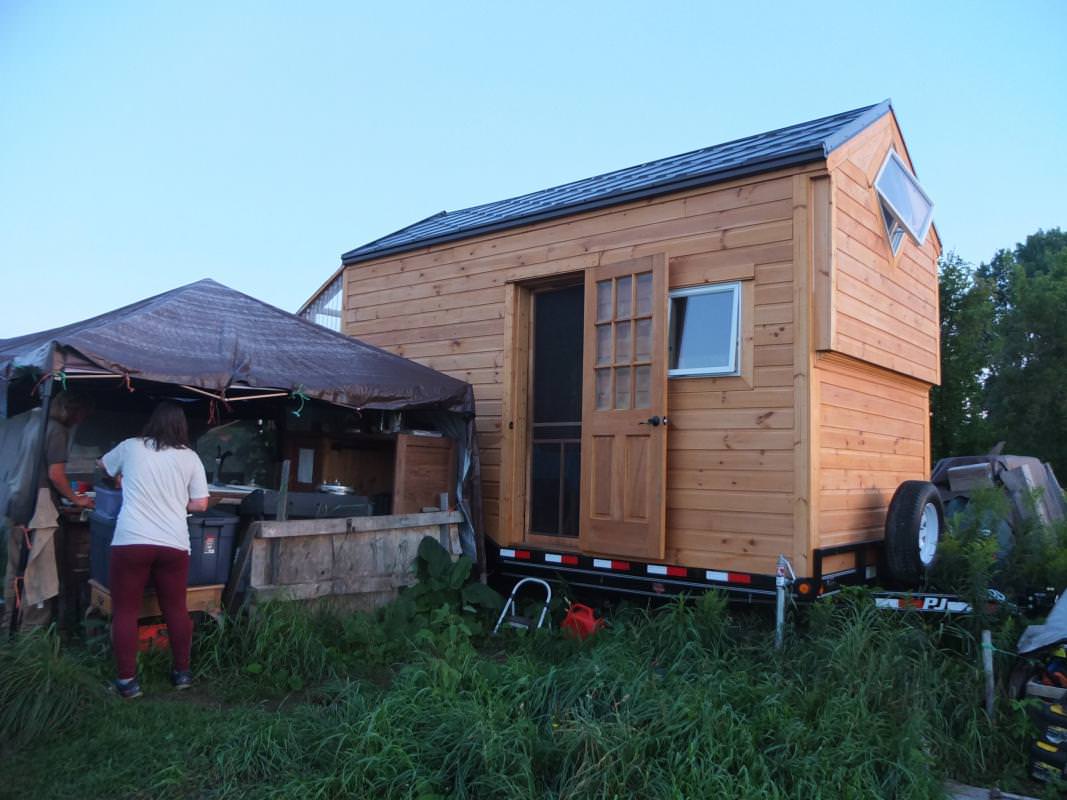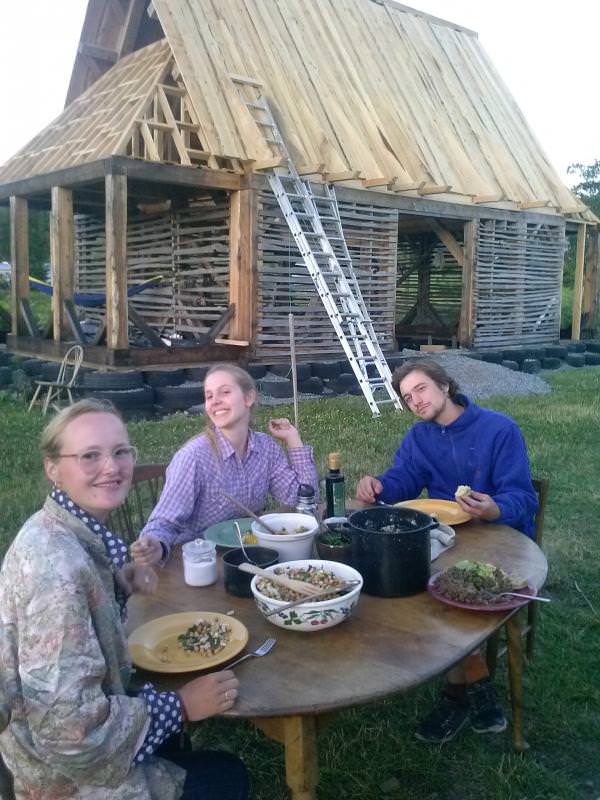 Unadilla Community Farm was founded in 2013 by a group of farmhands and craftspeople dedicated to the goals of the back-to-the-land movement. Our goal is to provide organic fruits and vegetables to local markets while living self-sufficiently and sustainably, in harmony with the natural world. We are starting from scratch on 12 acres of beautiful fields and forest, adjacent to protected forest land and Amish country. A creek and river run along the perimeter of the land. We are 10 minutes from Edmeston, a quaint rural town in upstate New York. We are seeking volunteers interested in disconnecting from the mainstream, learning to support ourselves by growing our own organic vegetables, utilizing natural building methods to construct our barn and dwelling structures, making our own household products like soap and shampoo, and reviving traditional agricultural and lifestyle practices. We are eager to learn new skills, like beekeeping, weaving, and candle making, and welcome volunteers who can teach these practices to the community and improve upon our self-sufficiency. We intend to hold workshops (building, gardening, soap making, crafts, etc.) for the public and to sell our products at local farmers' markets.
2016 was our third season in operation, and thanks to all of our friends and volunteers we made huge progress! We finished the white cedar staggered shingle roof of our timber-framed barn. We harvested our first garlic crop and sold our produce to a local market for the first time! We finished planting guilds around our 95 fruit and walnut trees, so each tree is surrounded by beneficial companion plants.
In 2016, we grew lettuce, kale, chard, collards, leeks, mustard greens, beets, garlic, onions, turnips, horseradish, cabbage, fennel, dill, cilantro, sage, mint, parsley, edible flowers, tomatoes, zucchini, flax, lavender, gourds, and many types of berries – aronia berry, raspberries, gooseberries, blackberries, and blueberries, including heirloom varieties. In previous years, we planted many types and varieties of fruit trees – sea buckthorn, apples, pears, peaches, plums, cherries, mulberries, apricots. We also forage for wild greens. We have our own eggs from our chickens who roam freely on the property! We never use any pesticides and plan to attain organic certification in the future. We supplement our diet with organic American-grown (preferably local or from the Northeast) grains, beans, and other staples. In the interest of learning to live self-sufficiently off of the land, we are currently eating a vegan/vegetarian diet. No sugar, meat, alcohol, or drugs are allowed on the property. But you're welcome to visit the tavern down the road if you'd like to get yourself a burger and a cold beer on the weekends.
We use natural building methods and source our building materials locally. We get our lumber from the mountain down the road, and our Amish neighbors mill it for us.
We welcome volunteers with all levels of experience, with a dedicated work ethic, open mind, commitment to sustainability, and desire to learn together as a community how we can forge a new life independent of mainstream consumer culture.
**We are asking our volunteers to commit to a 1-month minimum stay, with preference given to those who can commit to a longer stay. We have an application form we ask prospective volunteers to fill out, which both gives you some more information about us and vice versa.**
Volunteers are required to work 30 hours a week, typically 5 days a week, 6 hours a day.
In exchange, all organic vegetarian/vegan meals are provided. We also have workers' insurance which covers all of our volunteers.
The following are examples of the typical jobs that we do at Unadilla Community Farm:
– gardening/landscape work: tilling soil with gas-powered tiller, planting, weeding, mulching, emptying compost/humanure buckets and tending compost/humanure piles, watering, tree care, lawn mowing, harvesting vegetables
– natural building: use of power tools to cut wood, heavy lifting, sanding, oiling, measuring and assembly
– feeding chickens, collecting eggs, cleaning coop
– cooking communal vegetarian/vegan meals
Accommodation:
We do not currently have electricity, running water, or permanent structures. We have a double-burner propane camp stove that we use for cooking. We have a screened-in dining tent with a dining table and chairs, as well as a covered kitchen tent with the stove, sink, and cabinet containing food, dishes, and kitchen utensils. All of our food is stored in sealed, animal-proof plastic bins.
Our property is adjacent to a creek and a river, where we bathe.
We have an outdoor compost toilet and we provide toilet paper.
We do not have Internet access or electricity on the property at this time. We typically have good cell phone reception. We understand the need to use electronics for communication, but encourage minimizing usage and instead trying to be more present.
We usually go to the local library once a week to use the computers and charge cell phones. We also occasionally make trips into town to go to museums, cafes, grocery stores, or get needed supplies.
We have a company car used for group trips and farm supply runs or other business-related trips, as well as volunteer pick-ups and drop-offs within a 40 minute radius of the farm.
We are still in the process of constructing our dwellings. For the 2017 season, our dwelling options include: staying in our newly built tiny home that can sleep up to 2 people, staying in the two upstairs lofts of our unheated barn, or various tent platforms and camp spots around the property (please bring your own tent/hammock, bedding, etc.).
Transportation:
We are located in rural West Edmeston, NY, about 40 minutes from Utica and Cooperstown, respectively. We can pick up and drop off volunteers within a 40 minute radius of the farm. Buses and trains travel to Utica and Cooperstown from New York City and other major cities. For ridesharing, there's a good Facebook page called "One foot in NYC – One foot Upstate" where you might be able to arrange a ride. We also have parking spaces available for volunteers who choose to bring their own car.
Participation info
New members: Open
New collaborators: Open
We welcome volunteers with all levels of experience, with a dedicated work ethic, open mind, commitment to sustainability, and desire to learn together as a community how we can forge a new life independent of mainstream consumer culture.
We ask that volunteers live and work with us for 3 months (1 season) before applying for membership within the cooperative.