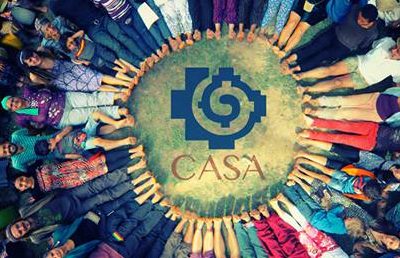 CASA Latina is the Council of Sustainable Settlements of Latin America, which coordinates and strengthens regional and national networks that promote, educate, investigate and disseminate sustainable lifestyles.
Consejo de Asentamientos Sustentables de América Latina
El Consejo de Asentamientos Sustentables América Latina -CASA Latina – busca articular y fortalecer las acciones de las redes nacionales y regionales latinoamericanas que promueven, forman, investigan y difunden estilos de vida sustentables y regenerativos.
El proceso de formación de CASA comienza en el Llamado de la Montaña – encuentro iberoamericano de ecoaldeas Colombia, en enero del 2012, al que se sumaron además de ecoaldeanos, representantes asentamientos sustentables e impulsores de iniciativas rurales y urbanas, lo que nos hizo entender que era el momento de reconocer la articulación de asentamientos sustentables.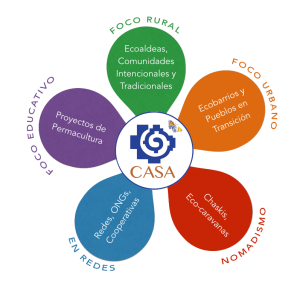 CASA Latina busca crear y visibilizar ejemplos vivos que puedan inspirar el cambio hacia patrones de vida que rescatan y regeneran los sistemas ecológicos, económicos y sociales, que consideramos vitales para garantizar la permanencia de la especie humana en la Tierra.
*Definimos asentamientos sustentables como aquellos que practican y cultivan hábitos creativos de cuidado entre seres humanos y la diversidad de formas de vida y entidades de la naturaleza.
Funcionamos por nodos locales, trabajamos a distancia y procuramos encuentros presenciales, los de mayor alcance son los siguientes:
Lamado de la Montaña (Colombia)
http://llamadodelamontana.org
Facebook / Comunidad: Llamado de la Montaña Colombia
Consejo de Visiones México – Guardianes de la Tierra
www.consejodevisiones.org
Facebook/ ONG: Consejo de Visiones – Guardianes de la Tierra
E-mail: [email protected]
Evento itinerante. Se procura hacer una vez al año, suele hacerse en los últimos meses
2017 "El Llamado del Agua" en Bacalar, Q. Roo del 27 nov-3 dic
ECCO – Encuentro de CASA Continental
2017 en Brasil
Sitio Institucional
https://redcasalatina.org/
VISIÓN:
Somos una comunidad pluricultural e incluyente, viviendo en plenitud, paz y armonía con la Madre Tierra y con todos los seres que habitamos en esta casa común.
MISIÓN:
Los integrantes de CASA, el Consejo de Asentamientos Sustentables de América Latina, impulsamos la articulación de las redes de asentamientos e iniciativas sustentables territoriales, biorregionales y nacionales de Latinoamérica, la Red Global de Ecoaldeas (GEN) y otras redes afines, para promover estilos de vida regenerativos y sociedades mas resilientes
PROPÓSITOS:
Apoyamos el desarrollo de iniciativas, eventos y proyectos que son ejemplos inspiradores en los ámbitos ecológico, social, económico, cultural, espiritual y educativo, para acelerar el cambio hacia estilos de vida sustentables.
Proporcionamos informacion, herramientas, entrenamientos y soluciones en regeneración y sustentabilidad, como cursos de diseño de asentamientos sustentables, diseño en permacultura, gobernanza participativa, adaptación al cambio climático, entre otros.
Facilitamos y participamos en procesos de incidencia política y acciones de educación ciudadana para salvaguardar los derechos de la Madre Tierra.