ReGEN-Nations is a 6-month learning journey and regenerative design lab using whole systems thinking to design solutions for social, cultural, economic, and ecological resilience and regeneration. Coming from a region that is particularly vulnerable to the climate crisis coupled with challenges posed by the COVID-19 pandemic, we aim to accompany participants in exploring ways that heal and restore our selves, our communities and our natural environment. The program seeks to weave together the wisdom of our rich cultural heritage with locally appropriate social and scientific methods and technologies via coaching circles, workshops, webinars, and online working sessions. ReGEN-Nations is an initiative from GENOA Education.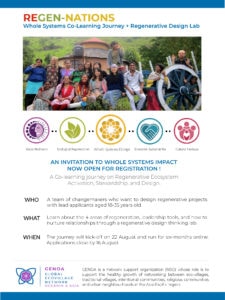 Components of the ReGEN-Nations Program:
Learning Journey:

A learning journey for 6 months on the 4 areas of regeneration, integrating into whole systems design, and cross-pollinating best practices from diverse geographies and experiences.

Leadership Coaching:

Facilitator guided and peer to peer coaching circles to support in leadership needs and upskilling. This involves tools for leadership in complexity and practices for personal and collective well being.

Ecosystem Stewardship:

Engaging changemakers to activate, catalyze, and nurture relationships between their social and ecological ecosystems.

Prototyping Lab:

A regenerative design thinking lab to incubate and scale innovative solutions that address systemic challenges.
We are looking for participants that meet these criteria:
Participants should apply as a team. Team membership composed of a minimum of 2 members (gender balanced and intergenerational in composition preferred)

The lead applicants

are between

18-35

years old*




(* if you are outside this age range and interested to join the program, please write to us individually so we can understand your story and support you to join the program)

With a regenerative project in ideation or scaling stage in Asia or Oceania region. The project is designed to activate, nurture, and catalyze a community of practice or network in their own country.

Project idea aims to address

systemic issues in relation to cultural, social, economic or ecological challenges

in relation to the climate crisis and the COVID-19 pandemic

Commitment to

participate online for a 6 month

learning journey
Interested candidates should fill in this application form by August 16th 2020. We will inform the teams officially joining the program by August 22nd and the first session will start from August 24th.  
For more information and support, please contact [email protected]