Over the course of 2022, both schools faced massive transformation. Escola da Esperanca in Tamera Ecovillage experienced change in their staff as multiple teachers involved with the project left the school. In their partnership with Inkiri School, now Almar School, in Piracanga Ecovillage, Anja was able to find commfort in understanding that the changes she was experiencing were happening globally, that she wasn't alone. That the effects of Corona were long-standing. 
"I want to honor the work you have done here – it has given me a completely new perspective on the work I do and I want to thank you." – Anja Funk, Escola de Esperanca, Tamera Healing Biotope, Portugal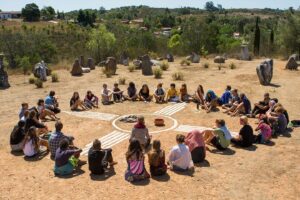 On the other side of the world, Inkiri school based in Piracanga was undergoing their own set of changes. The most visible of which being a new name – The Almar School. The theme of re-visioning was strong in both projects, as they navigated the new landscape altered by global pandemic.
Despite the individual changes and challenges, the two participants Anja and Karina were able to form a lasting bond of friendship – between themselves as educators and their students.
"We have already done some exchanges between our students this year and we are arranging to continue until the end of the year. I feel connected and supported in our twinning project!" – Karina Clark, Almar School. Piracanga Ecovillage, Brazil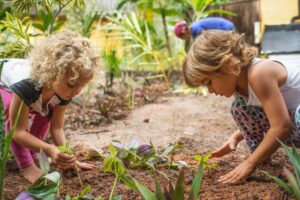 As a pair, the two schools outlines the following objectives;
Pen Pal Project: Possibility for the children to have contact in portuguese to another culture with a school with similar principles.
Wish from Anja -Heart Circle… to have an intimate and open meeting, what is it that has been so difficult for communities in the past years. Who holds the foundation of your project? How do you manage?
Wish from Karina – Pedagogy, curriculum vs. human practices. How to create free and autonomous children that also have to adapt to this system. Empower teachers to draw the thin line between autonomous and prepared. Dissect Pedagogical approaches
Connect our teachers; design a structured meeting.
In addition to their work together, each school was active in the project deliverables, with Almar School contributing to the teacher training, Teaching Toolkit and Escola da Esperanca supporting the ecovillage design cards.