Launching in January 2022, GEN facilitated 20 educator collaborators to build a community among them, establish direct 'twin' relationships, and co-create three educational resources: a living showcase and toolkit, a teacher training curriculum, and ecovillage principles design cards for children.
To explore these resources, visit here. To learn more about the project, read on.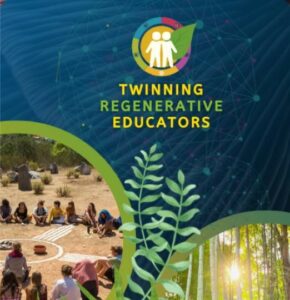 Spanning every region, collaborators brought experience from ecovillage schools, traditional schools, and community projects. GEN stewarded this enquiry to weave the knowledge and experiences into a new fabric that will serve educators and children within the network and beyond.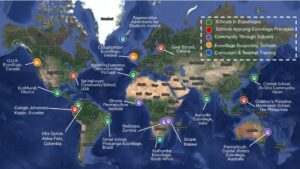 Collective Dream
To launch the project, all collaborators shared what they hoped to get out of the project. This is the synthesis:
To create a strong network of alternative and complementary education and transcend what we imagined possible for education. Realising that we are all a part of a bigger movement, to feel this shared purpose in this global sphere.
To ensure this work is visible and accessible to the world, making a real impact with meaningful, effective, and transformative tools that will make a positive change for educators and children.
To expand our ideas of what is out there, feeling as though we have travelled around the world visiting each project and see the results of that in the inspiring materials and tools we produce, aligning theory with practice.
To be driven by curiosity and draw strength from our differences, nurturing each other and pushing the edges so our collective project flourishes. To awaken a new understanding of this process.
The Project Journey:
Phase 1 focused on building community among the collaborators and the GEN team. We delved deeper into the strengths and challenges and articulated a collective dream for this collaboration. From that, we sensed which collaborators could support each other best based on the strengths they could offer and the leverage points where they wanted support (also referred to as inputs and outputs). From that, we launched the 'twin' relationships. We explored systems of communication and identified effective ways of working together. We also continued our webinar series, where each of the collaborators gave a more in-depth storytelling of their journeys.
In phase 2, collaborators focused on the 3 educational resources, facilitated by the GEN team. Starting with an open brainstorm, we gathered all the ideas and laid the foundation to build upon. We explored some essential framing questions: What makes a school "Regenerative"? Who are our audiences and what are their needs? What are the essential components of each resource? The collaborators contributed to an aspect they felt called to and we weaved their input throughout each resource.
In phase 3, we engaged with local communities to invite wider input as we continued to refine the resources. In December 2022, we launched the 3 resources to the wider GEN network and the public, opening the doors to welcome an emerging Community of Practice, where educators, both formal and informal, can practice the methodologies, play with the tools, and share their feedback and input to take this work to the next level.
We held a final showcase and celebration of the project, with several representatives and an open invitation for the public. This can be viewed here (free, with registration).
The Project Partners and their Twin Relationships
Escola da Esperança, Tamera Ecovillage (Portugal) & Almar School, Piracanga Ecovillage (Brazil)
Johannes Kepler School (Ecuador) & Springhouse Community School (USA)
Ghana Permaculture Institute (Ghana) & O.U.R. Ecovillage (Canada)
Regenerative Education and Adventures for Students (Iceland) & ReScope (Zambia)
Children's Paradise Montessori School (Philippines) & As One Community (Japan)
PermaYouth in Crystal Waters Ecovillage (Australia) & Scope (Malawi)
Gaia School (Estonia) & Cloughjordan Ecovillage (Ireland)
EcoMundi School (Mexico) & Teacher's Center of Auroville Ecovillage (India)
Uba Qynza in Aldea Feliz Ecovillage (Colombia) & Kutumba Ecovillage (South Africa)
Get Involved!
We are excited to already take interest from anyone curious about the Teacher Training here (dates to be confirmed).
And we welcome any educators curious about joining our self-organised Community of Practice here. The goal is to hold regular (monthly or bi-monthly) meetings to share resources and inspiration.