Since the project launched in January 2022, GEN has facilitated 20 educator collaborators to build a community among them, establish direct twin relationships, and created detailed outlines of three educational resources: a toolkit, teacher training, and ecovillage principles design cards for children. Spanning every region, collaborators bring experience from ecovillage schools, traditional schools, and community projects. GEN is stewarding this enquiry to weave the knowledge and experiences into a new fabric that will serve educators and children within the network and beyond.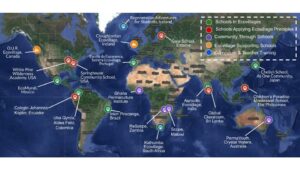 Collective Dream
All collaborators were invited to share what they hoped to get out of the project. This is the synthesis:
To create a strong network of alternative and complementary education and transcend what we imagined possible for education. Realising that we are all a part of a bigger movement, to feel this shared purpose in this global sphere.
To ensure this work is visible and accessible to the world, making a real impact with meaningful, effective, and transformative tools that will make a positive change for educators and children.
To expand our ideas of what is out there, feeling as though we have travelled around the world visiting each project and see the results of that in the inspiring materials and tools we produce, aligning theory with practice.
To be driven by curiosity and draw strength from our differences, nurturing each other and pushing the edges so our collective project flourishes. To awaken a new understanding of this process.
A Recap of What We've Achieved So Far:
Phase 1 focused on building community among the collaborators and the GEN team. We delved deeper into the strengths and challenges and articulated a collective dream for this collaboration. From that, we sensed which collaborators could support each other best and launched the twinned relationships. We explored systems of communication and explicitly identified effective ways of working together. We also continued our webinar series, where each of the collaborators gave a more in-depth storytelling of their journey.
In phase 2, collaborators focused on the 3 educational resources, facilitated by the GEN team. Starting with an open brainstorm, we gathered all the ideas and laid the foundation to build upon. We explored some essential framing questions: What makes a school "Regenerative"? Who are our audiences and what are their needs? What are the essential components of each resource?
In phase 3, we will engage with local communities to invite their input and continue to refine the resources. By December 2022, we will be ready to launch the 3 resources to the wider GEN network and open ourselves to welcome an emerging Community of Practice, where educators, both formal and informal, can practice the methodologies, play with the tools, and share their feedback and input to take this work to the next level.