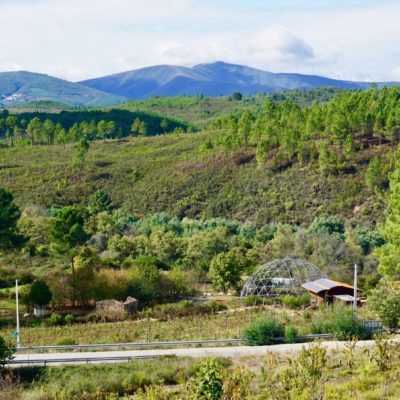 Ananda Valley project was born as a dream with solid background: 60 skilled volunteers focused on different aspects of six complementary associations, and a clear direction: "together, a better world is possible".
Deep ecology, sustainable agriculture, vegetarianism, life-long learning, art, social service and social activism are the focus areas of these non-profit associations; few more are ready to join.
In 2010, in the center of a Portugal in full crisis, was discovered a perfect place to develop a vibrant settlement, a service-hub and a research-center where individuals, moving together, can fully realize their potentialities for inner growth, in harmony with nature and the surrounding community.
After years of hard work, plans for a highway passing through our project were published, just the day before buying the property. All seemed lost. But, with renewed inspiration, we acquired instead a nearby valley abandoned 50 years ago, between two small villages, an ecological corridor of Serra-da-Estrela Natural Reserve, and we begun building.
Building people, community, relations, educational projects with international schools, local organic farming movement, drug-free eco-festival, food-forest, solar-panels-irrigated fruits orchards, vegetable gardens, vegetarian restaurants, yoga-center, warehouses, beautiful domes, kids-paradise, social-activists conferences with University, vegan action-group, cooperation with local-government, and only recently our Residential Area.
Last 2 years we start organasing and hosting programs under Erasmus+. If you are under 30 years old interested in youth exchanges and European solidarity corps contact us for more information.
Primary interests: regeneration, yoga, meditation, ecology, organic argoculture, youth work, self-development, multiculturism...
Events & Trainings held by Ananda Valley
Date: 1 2020 – 1 September 2021
Language:
Location: Ananda Valley, Sitio do Carvalhal, 1, 6230-901 Ourondo, Portugal
This ESC program aims to raise awareness on topics related to our daily life. The choices we make, the relationships we create between each other and between man and his environment. During your stay in Ananda Valley you will have the opportunity to explore and expand your skills and passions, learn about nature and how we interfere with it, discover the richness of the different cultures, express your artistic side, develop your own project and much more. It is a two/four months experience, … Read more
Date: 7 – 11 July 2021
Language:
Location: Ananda Valley, Sitio do Carvalhal, 1, 6230-901 Ourondo, Portugal
Ananda Festival of Bliss is a festival for those who believe in and work towards making the world a better place. It's an adventure through art and nature, a dive for activists and dreamers, young people and families, lovers of ecology and warriors of light. … Read more
Site content by Ananda Valley
Ecovillages
Region: GEN Europe
Languages: English, Portuguese
The goal is to develop a model of sustainable living in response to modern social, economic and environmental challenges. It envisions becoming a centre of environmental and social excellence that will serve as a source of inspiration and innovation for the wider community. Ananda Valley aims to create its nucleus in a rural community based on ecological principles in the centre of Portugal. … Read more
Events