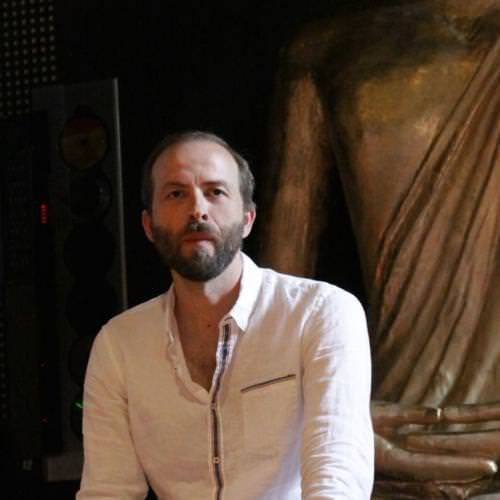 As entrepreneur, Claudian Dobos has previous experience within the Portuguese companies "We are one - Creative insight", as a manager, branding and communication and image strategy expert and as co-founder at IAMIN.
Claudian is co-founder and board member of the evolutionary entrepreneurship community "João Sem Medo", established as a cooperative under Portuguese Law.
Since 2010 he is supporting actively the emergence of the Romanian Transition Towns Movement and is co-founder of "Romania In Tranzitie".
Claudian co-founded the movement "Terra Livre - free land", the Research in Permaculture Institute of Romania, ARISE.EUCATION, the Aurora Circle - a hub for eco-socio entrepreneurship, and the community driven initiative "Aurora", all of which were established in Romania.
Claudian is co-creator of the movement "Communities Convergence" and also co-manager of the "1st Danube Communities Convergence" held in 2013 in Romania.
He is presently part of the core strategy group for the European Permaculture Network and Danube Regenerative Alliance.
Claudian is a speaker on sustainable development, climate change, transition towns and community building and others.
He speaks four languages (English, Portuguese, Romanian and Spanish) and is a trainer and facilitator on communication strategies, communities of practice, transition initiatives, permaculture, community building, personal development and deep ecology (WTR), Dragon Dreaming and many others.
Since 2015 Claudian is the President of ECOLISE (www.ecolise.eu) and since 2012 he has supported GEN International as the Communication and Design WG Coordinator.
Primary interests: Social (Diversity & Cohesion, Trust & Communication, Leadership & Governance); Culture (Vision & Purpose, Wisdom & Innovation); Integral Design (Contextualised Design); Economy (Planetary Boundaries)
Site content by Claudian Dobos
Ecovillages
Region: GEN Europe
Languages: English, French, German, Portuguese, Romanian, Spanish
We are a group of people committed to manifest a common vision. Aurora is an intentional spiritual community. It is the manifestation of the search for ourselves, the reunion with our true self and the shift on the way we relate to all other life forms and the planet. The community is deep grounded into practices such as meditation and yoga. All the meals are deliciously vegetarian/vegan/raw and the use of drugs, tobacco and alcohol are not encouraged. We connect these practices to concrete … Read more