We bring you an exciting update from our 2022 Twinning Regenerative Educators Project promoting sustainability education.
To complement our versatile and well-utilised ecovillage design cards, we've added a new addition to our sustainability education collection, specifically developed for educators and youth. To celebrate launching this new resource, we are delighted to offer 50% off for the next week (until 18 August).
⚡ Check them out in our online store https://ecovillage.org/store/
⚡ Learn more about the Twinning Regenerative Educators Project here
What is also exciting and important to the Global Ecovillage Network is that this resource was developed by educators and youth from the network itself. It was created during a year-long project with 20 regenerative educators from around the world, from schools inside ecovillages to schools created by the community.
Each card is based on of one the Ecovillage Design Principles and uses an animal to help bring the principle's message to a younger audience, targeting 6 – 12-year-olds. We also offer a range of ideas on how to use the cards and, as always, we invite your feedback and further ideas.
The cards are also available in German, Spanish, and Portuguese. If you would like to contribute to the translation of this tool please write us at [email protected].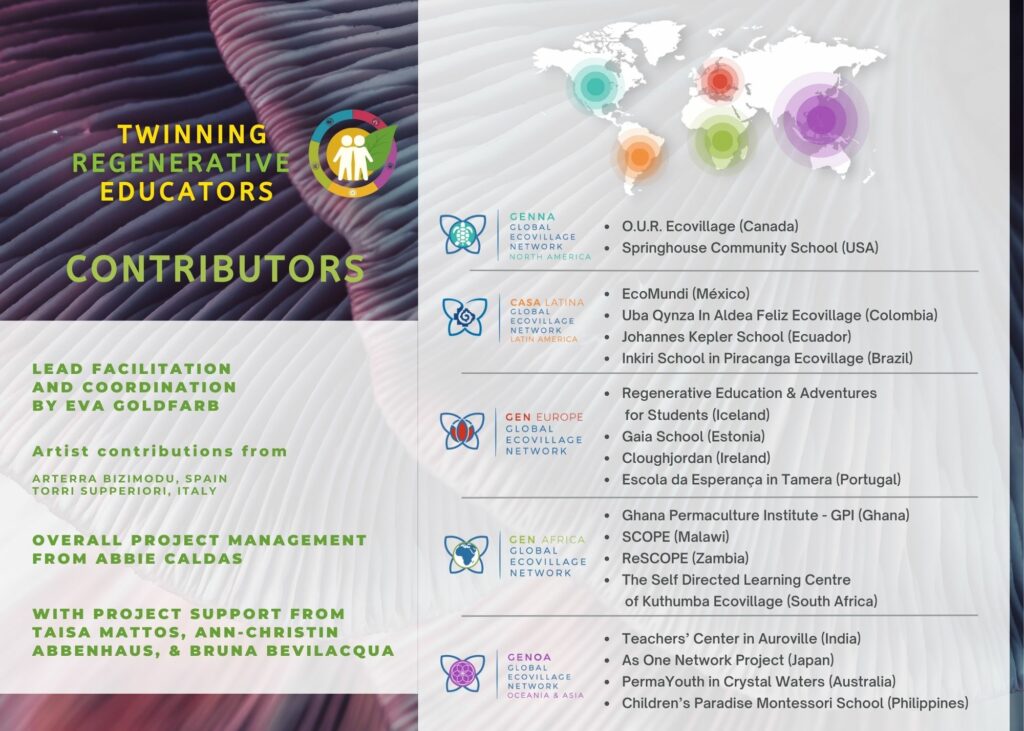 For now, this is a digital tool that we invite you to take to your local print shop. Printing prices will vary depending on location.
Recommended Print Sizes: Small (A6), Classics (A5), Large (A4), Jumbo (A3)
---
If you are (or would like to be) a Regenerative Educator, working with youth in formal or informal capacities, apply to join our emerging Community of Practice here.
Additionally, find out about our Regenerative Educators Teacher Training and register your interest here.
---
I printed two sets of the cards for the European Ecovillage Gathering that took place at Nature Community in Germany – July 2023. Together with a wonderful team of 3 women from the european network, I had the joy of creating the 2023 Children's Programme, which welcomed nearly 100 children. We used the Ecovillage Cards for Kids in our opening circles as a tool to overcome language barriers, get into our bodies, and begin talking about regenerative design. I printed one deck in German and one in English and the participants in our children's opening circle each got one animal to act out. Without using words, the game was to find your pair. The results were wonderful and the game was followed with an art workshop in which we explored the card's messages in more details and created animal art of our own! I love working with this tool and hope you do too.

Eva Goldfarb, Communications Lead, GEN EU Children's Programme Co-coordinator