A collaborative work-life initiative forming an intentional community in rural Panama based on permaculture ethics, respect, peace & living an "on-purpose" life.
THE PROJECT – Come create community.
8th Life Panama is a permaculture-based Eco-village Project in the early stages of formation. We're designing our intentional community to provide a social support structure and a low impact lifestyle for our members, residents, volunteers, and guests. We envision an intentional rural community where the values and ideals of community, respect, peace, and living an "on-purpose" life will be rediscovered by the diverse, multigenerational group of people who've joined us.
We are currently seeking founding members and experienced permaculture volunteers.
THE REASONS – We can live more lightly.
As human beings, we weren't designed to live disconnected from nature and each other. As a society, we've gone astray and as a result, we're damaging our mother earth and soon she won't be able to sustain human life. We seem to have also lost the ability to relate with one another as human beings.
It's time to transition from a destructive society to a sustainable world. We need to stop the destruction, build soil, restore ecosystems, heal our addictions, change organizational structures of the global economy, & learn to live in community.
THE LAND – Be a steward and protector.
Our Eco-village land, Finca Ubuntu, is 21Ha of grasslands and forests bordered by a river and stream. When we bought the land, it was in its natural state apart from 1Ha that was farmed on occasion. In 2018 we began planting the food forest. In 2019 we finished the bunkhouse area with outdoor kitchen & rainwater catchment. Our focus for 2020 is improving the food forest water system.
Casa Ubuntu is our co-working, co-living center in the town of Antón, 11km from the Finca. We receive digital nomads and others here on a cost and talent share basis. We work and live here while designing the Eco-village.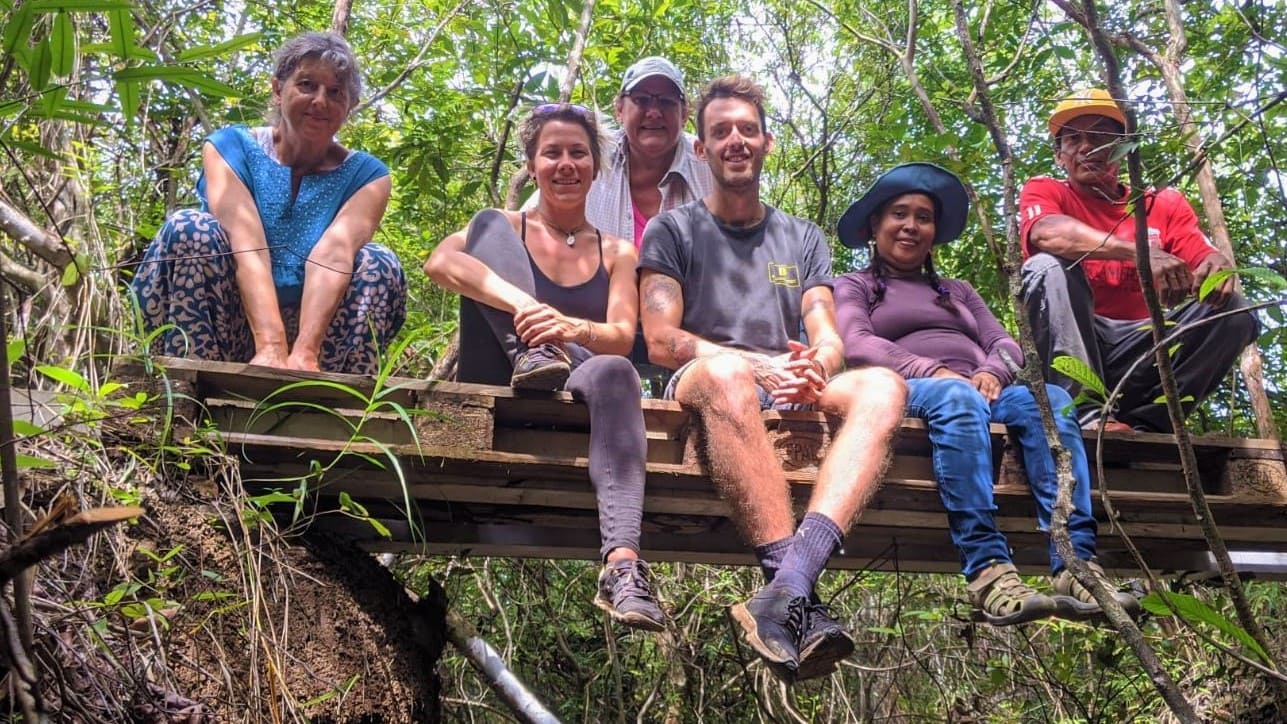 Membership & Visitors
Current members: 3
Open to new members
Open to visitors
Hi there - here's how it works:
1. Visit our website and study the project, please. We've included a TON of information there.
2. If after reading through the site you're interested in becoming a founding member of this project, we'd appreciate it if you could send us the application form filled out in as much detail as possible. (it's on the website)
3. Once we receive your application, we'll reach out to schedule a time to talk by Skype, Zoom, What's App, or some other VOIP / internet calling system. This will give us a chance to get to know one another just a bit and answer any initial questions. After this, if we both think it's a good idea for you to proceed, we will be in touch with you while you're planning your transition and studying permaculture (which we hope you'll do here with us).
4. Integral Permaculture Training - enroll in the online Integral Permaculture Certificate action learning program, (details on our site) where we will formally start your induction into the project as well as designing together your transition to the Eco-village (including any Eco-business you might need to organize).
5. Become a Resident - Once you've planned your transition, you become a resident at the project (this can be the same period of time that you are taking your PDC). The first 6 months of residence is part of our mutual evaluation period. Following this time, you apply to become a member. Acceptance is based on following the community agreements and being an active, productive, and positive participant in the daily goings-on of the community. Your share ($20,000) is paid at this point. Keep in mind that this is a start-up initiative. Your share will be used two ways - 1 - reimbursing the value of the land and 2 - community infrastructure fund.
Images & Video