The Global Ecovillage Network is excited to host four events at this year's COP28. Bookmark this page and come back when we get closer to the date to register and get the weblinks for each event.
For the first year, UNESCO & the UN are launching a Greening Education Hub. We are delighted to join with two events exploring the ecovillage approach to regenerative education and climate action.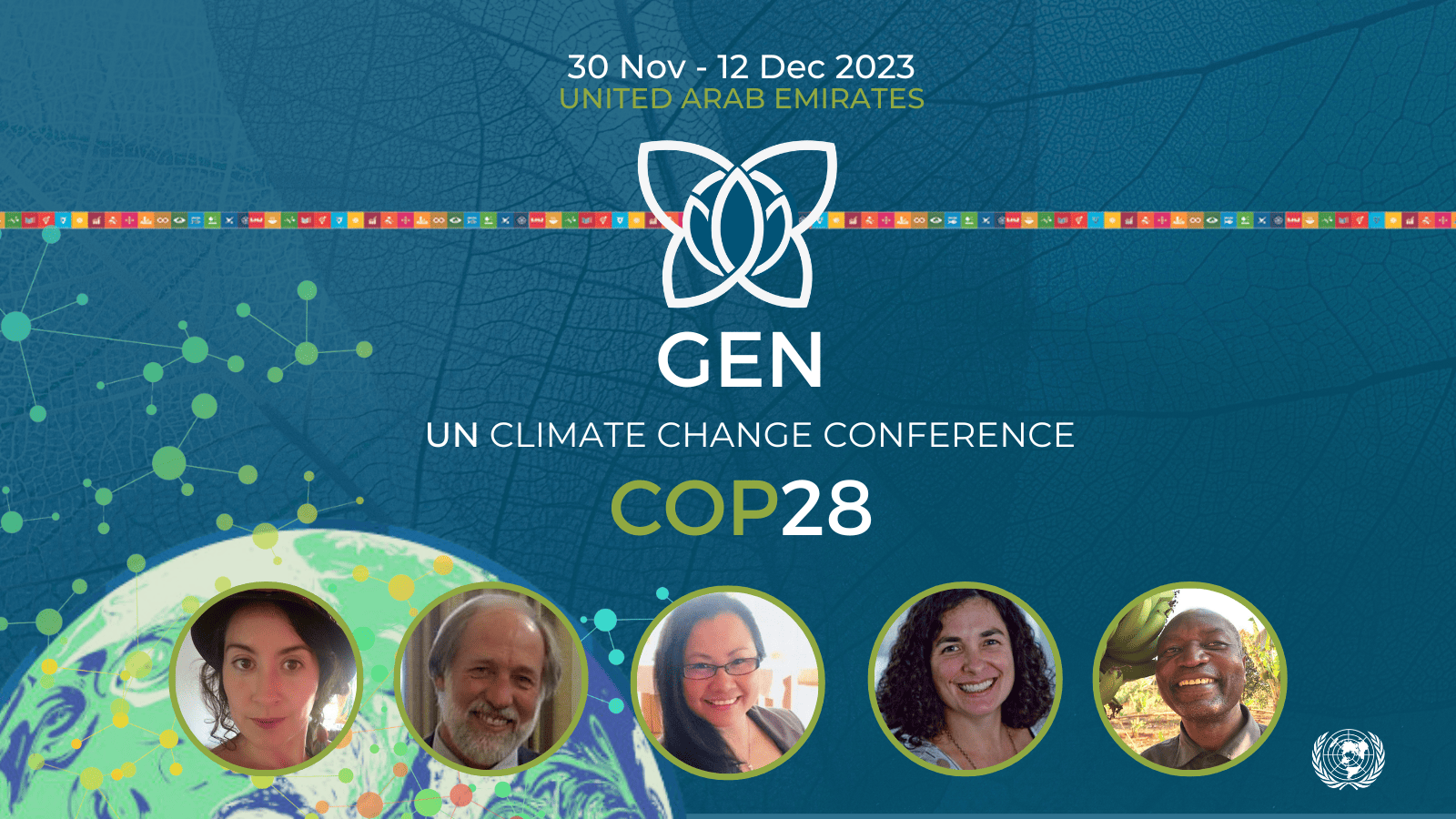 ---

Greening Education Pavilion | UNESCO's Greening Education Partnership
Creating Community Resiliency to Tackle Climate Change
Date: Saturday, 02nd Dec 2023
Time: 5:00PM – 6:00PM (UAE TIME); Join us online
Join us for a panel discussion and workshop sharing the learning journey of our Ecovillage Resilience project as we confront the growing ecological and climate challenges that are impacting our communities.
We will be sharing the tools and resources that we have been using to get a better grasp on how we can most effectively address the impacts that are already occurring due to global heating and climate change. We will respond to questions and welcome responses and suggestions while engaging in hands-on interactive learning activities during the session using the materials and processes that we have developed and been using.
Speakers and Facilitators:
Rob Wheeler, Main UN Representative, GEN; and North American Representative, International Facilitating Committee, Action for Sustainable Development
Lovans Owusu Takyi, Executive Director, Institute for Sustainable Energy and Environmental Solutions (ISEES) Ghana
Margarita O. Zethelius, Project Development; Latin American Representative, Network Stewards Circle; & Interim Board Member, Global Ecovillage Network Colombia
Piedad Viteri, DIRECTORA ECOPOBLACIONES, ASESORA DE GESTIÓN AMBIENTAL, COLEGIO JOHANNES KEPLER Ecuador
---
ReGENerative Education Approaches and Tools for Teachers | December 3
Join Margarita, Piedad, Mugove & Taisa for an interactive workshop exploring the ecovillage approach to regenerative education. Through the sharing of ideas in this thoughtfully facilitated space, participants will unearth new perspectives about educational structures and processes, spurring innovative ideas and imaginative possibilities for how learning can be conceptualized and materialized in our institutions.
Through interactive practical activities, participants will:
Get to know community-building tools to activate collective creativity and connect to cultural heritage while reconstructing an awareness of natural heritage;
Explore and develop dialogical, participatory, and regenerative activities within the learning process;
Apply the map of regeneration and the Integral Design Approach to school settings, exploring curricula informed by Ecovillage Design Education and the Sustainable Development Goals.
Delve into some case studies where these approaches are being delivered, for example the programmes for Sustainable Education and the SDGs for Schools from Johannes Kepler (Ecuador); the Training for Regenerative Education from Adventures from Students (Iceland) and the Greening Schools Programme from ReScope (Zambia) that are all inspired on the GEN Ecovillage approaches
Speakers and Facilitators:
Margarita Hamatsu, Regenerative Education & Adventures for Students, Alfheimar Green Preschool Teacher, Iceland
Mugove Walter Nyika, ReSCOPE Programme, Zambia (joining online)
Piedad Viteri, Johannes Kepler School, Ecuador
Taisa Mattos, GEN Education
Sponsored by Johannes Kepler School, Regenerative Education & Adventures for Students, and The Farm
---
Learn more about UNESCO's Climate chance education for social transformation: Whole-institution approach to greening every school
---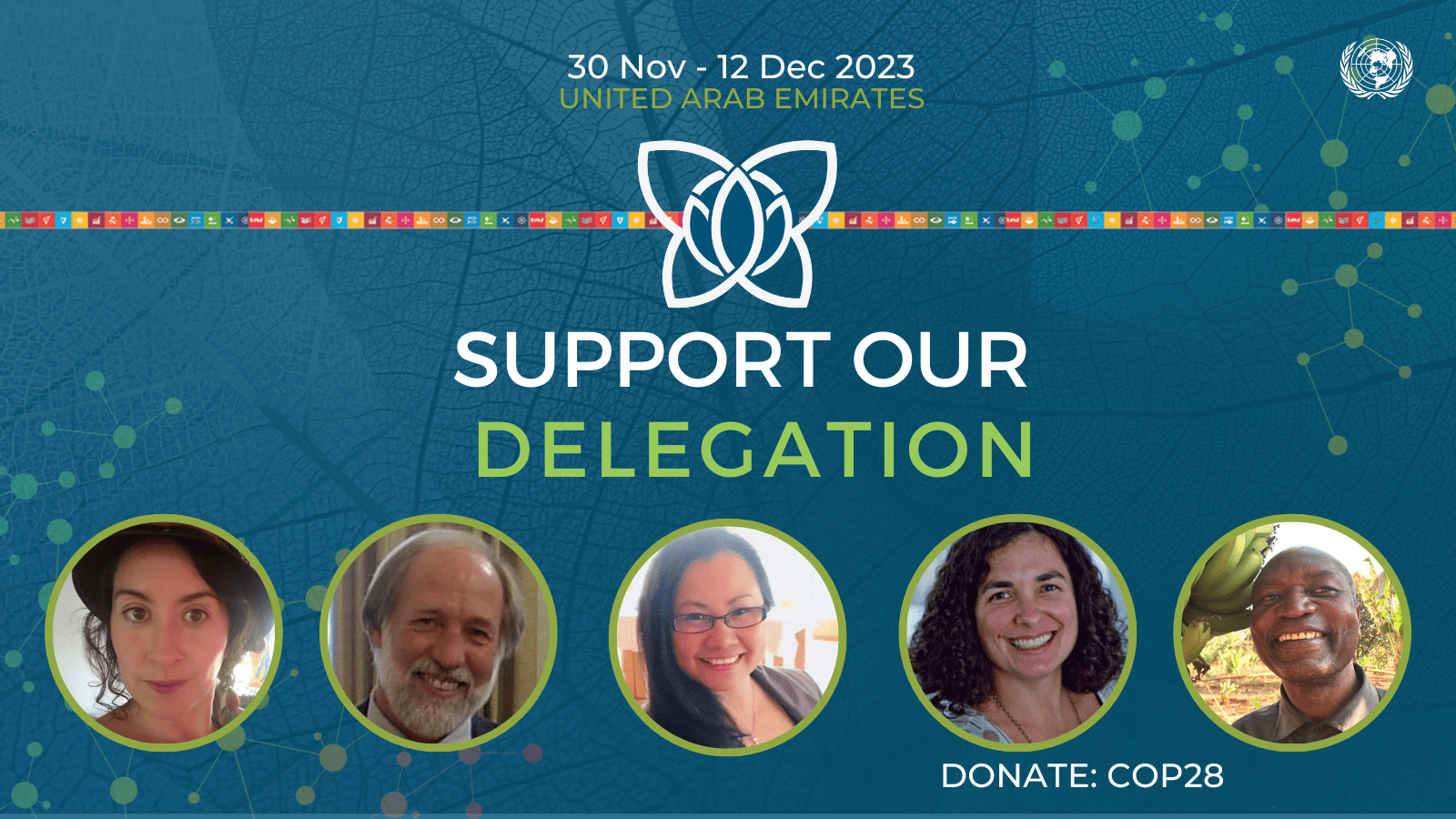 ---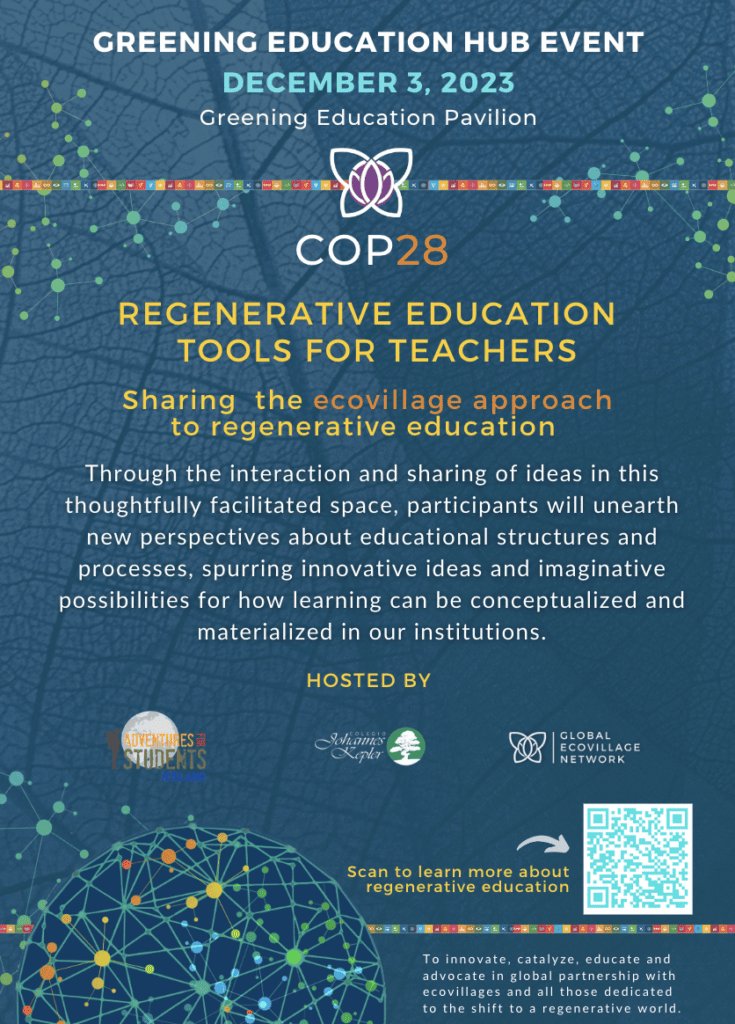 Blue Zone Side Event | Fri, 08 Dec 2023 | 11:30-13:00 | Room: SE Room 1 (175 pax)
100% Renewable & Local Solutions: Africa, South Asia & Global climate resilience & poverty reduction
This event will be web-streamed here | All side events will be available for on-demand watching on YouTube
Showcasing Community & Eco-Village Development: transition to 100% renewables, climate mitigation, adaptation & resilience with social co-benefits, income generation, food security, livelihoods, gender. Online Catalogues. Ex: Participatory planning & training in Africa, South Asia & around the world
Organizing Partners:
Global Ecovillage Network (GEN)
International Network for Sustainable Energy (INFORSE)
Integrated Sustainable Energy and Ecological Development Association (INSEDA)
Nordic Folkecenter for Renewable Energy
Sustainable Environmental Development Watch (SusWatch)

BLUE ZONE EXHIBIT | 04-06 December | Booth 3
Ecovillages around the world have long developed best practices & success stories showing how communities can plan for climate resiliency, adopt regenerative practices & implement nature based solutions based on Community Planning; an Impact Assessment Survey; & Regenerative Development Aims – SDGs+
Human Settlements, Health & Sustainable Lifestyle
Global Ecovillage Network (GEN – International), Mr. Rob Wheeler.
Nordic Folkecenter for Renewable Energy (NFVE), Mr. Daniele Pagani.
COLEGIO JOHANNES KEPLER, Piedad Viteri
---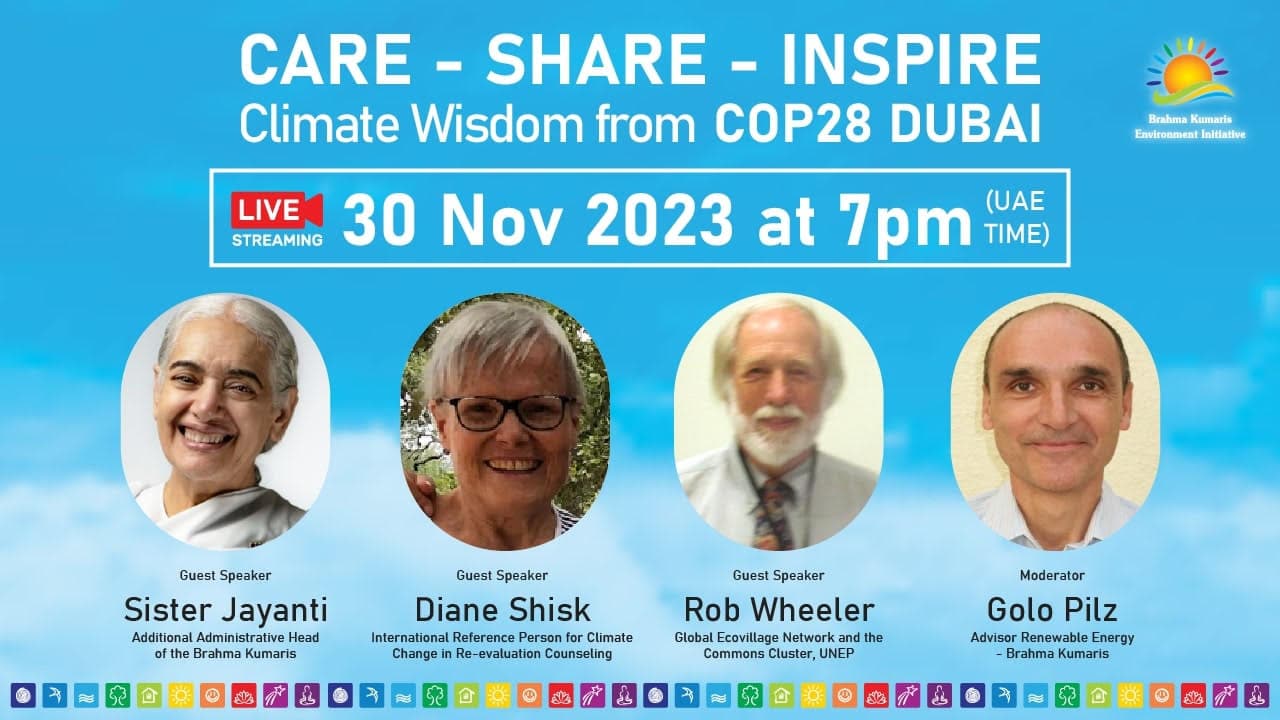 Care, Share, Inspire – Climate Wisdom from COP28′ Brahma Kumaris
Event Title: Care, Share, Inspire – Climate Wisdom from COP28. The interview will
centre on following questions.
– Inspirational stories of change-makers driving real impact
– Sharing of wisdom to inspire innovative solutions to tackle climate challenges
– First-hand accounts of transformative moments from COP 28
Date: Thursday 30th Nov.
Time: 18:30 (Dubai local time) meeting time. The live stream will start at 19.00 and
end approx. 19.45 followed by a small reception.
Live stream link for the full program: https://eco.brahmakumaris.org/live/
You can now watch this event online: YOUTUBE
Featured Speaker: Rob Wheeler is a K-12 Teacher and the Main Representative to the UN of the Global Ecovillage Network and serves on GEN's Elders Council and Network Steward's Circle. He is a North American Representative on the Facilitating Group of Action for Sustainable Development and serves on the Advisory Council of the Ecosystem Restoration Communities. Rob lives at the Ecovillage Training Center at The Farm in Tennessee in the US. He is a certified trainer in Design for Sustainable Communities through GAIA Education and teaches about Regenerative Development and the SDGs. Rob has studied climate change and renewable energy solutions for 50 some years and has participated actively in most of the UN's sustainable development, environmental and climate conferences and processes for the past 25 years. He is the Founder and CEO of Sustainably Wise and represents The Farm on GEN's Climate Resiliency Community of Practice.
As per current planning, Golo Pilz, Adviser Renewable Energy, is the moderator and
Sister Jayanti, Additional Admin. Head of Brahma Kumaris and one more guest speaker will join the panel.
Date: Thursday 30th Nov.
Time: 18:30 (Dubai local time) meeting time. The live stream will start at 19.00 and
end approx. 19.45 followed by a small reception.
Location: Raja Yoga Center, Shop 2, Nasir Ahmed Lootah Building, Khalid Bin Al Waleed Street,
Umm Hurair First, Dubai (3 min. walk from Burjuman Metro Station, Exit 1)
Travel time from COP to the venue by metro/car is approx. 1 hour.
We would appreciate you share the following
live stream link of the program with your network.
For communication and queries, kindly contact:
Sonja Ohlsson, Brahma Kumaris Eco Initiative [email protected] |+4530230738
---
Follow Along: COP28 Youtube channel