GEN Africa Working Groups
IT Support
Niveen Adel Morsy holds a B.SC. in Architecture from Cairo University, Egypt. She holds a postgraduate diploma in Architectural Design, Geographic Information Systems and Techno MBA. She currently manages several Islamic heritage projects for the Islamic and Coptic Heritage Unit in CULTNAT- the Center for Documentation of Cultural and Natural Heritage, one of the academic centers of the Bibliotheca Alexandrina. She has participated in several heritage information technology documentation and dissemination projects in Egypt and around the Arab world.
Niveen is one of the founders of GEN Africa. She has participated in Ecovillage Design Education courses (EDE) in both Senegal and Sieben Linden Ecovillage in Germany. Through her work in CULTNAT she collaborated with GEN International on its Solutions Library project: a web portal of heritage and innovative ecovillage solutions.
Niveen is providing support to GEN Africa through the council as well as Website and Social Media Pages update for GEN Africa
Lovans Owusu-Takyi – IT Support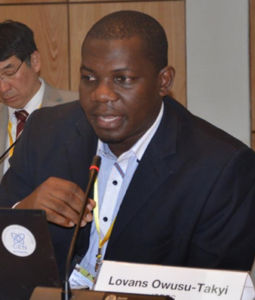 Lovans Owusu-Takyi holds an MPhil in Educational Administration and Management from the University of Education, Winneba, an MA in Agricultural Administration from University of Ghana, Legon; a Post Graduate Diploma in Public Administration and Post Graduate Certificate in Agricultural Administration from the Ghana Institute of Management and Public Administration, a BA in Psychology and Political Science and A Diploma in Agriculture.
Lovans is an organisational development professional, with expertise in permaculture, renewable energy, climate change, education and agriculture and small business development.
Lovans is one of the founders of GEN Africa. He first joined the Ecovillage Movement by participating in an Ecovillage Design Education course in Sieben Linden, in Berlin, Germany. After which he joined the team of GEN Africa Ambassadors supporting the co-creation of GEN Africa. He has also participated in an EDE in Hallengelille, Denmark in August 2012 and organized an EDE in Ghana at the Kumasi Institute of Tropical Agriculture (KITA). He has been a strong pillar for the development of GEN Ghana National Network and Now serves as the Vice President of GEN Ghana. He currently is managing a renewable energy institution in Ghana – the Institute for Sustainable Energy and Environmental Solutions (ISEES) whiles supporting the growth of a network of Institutions
He supports the GEN Africa Leadership as Ambassador and IT Support