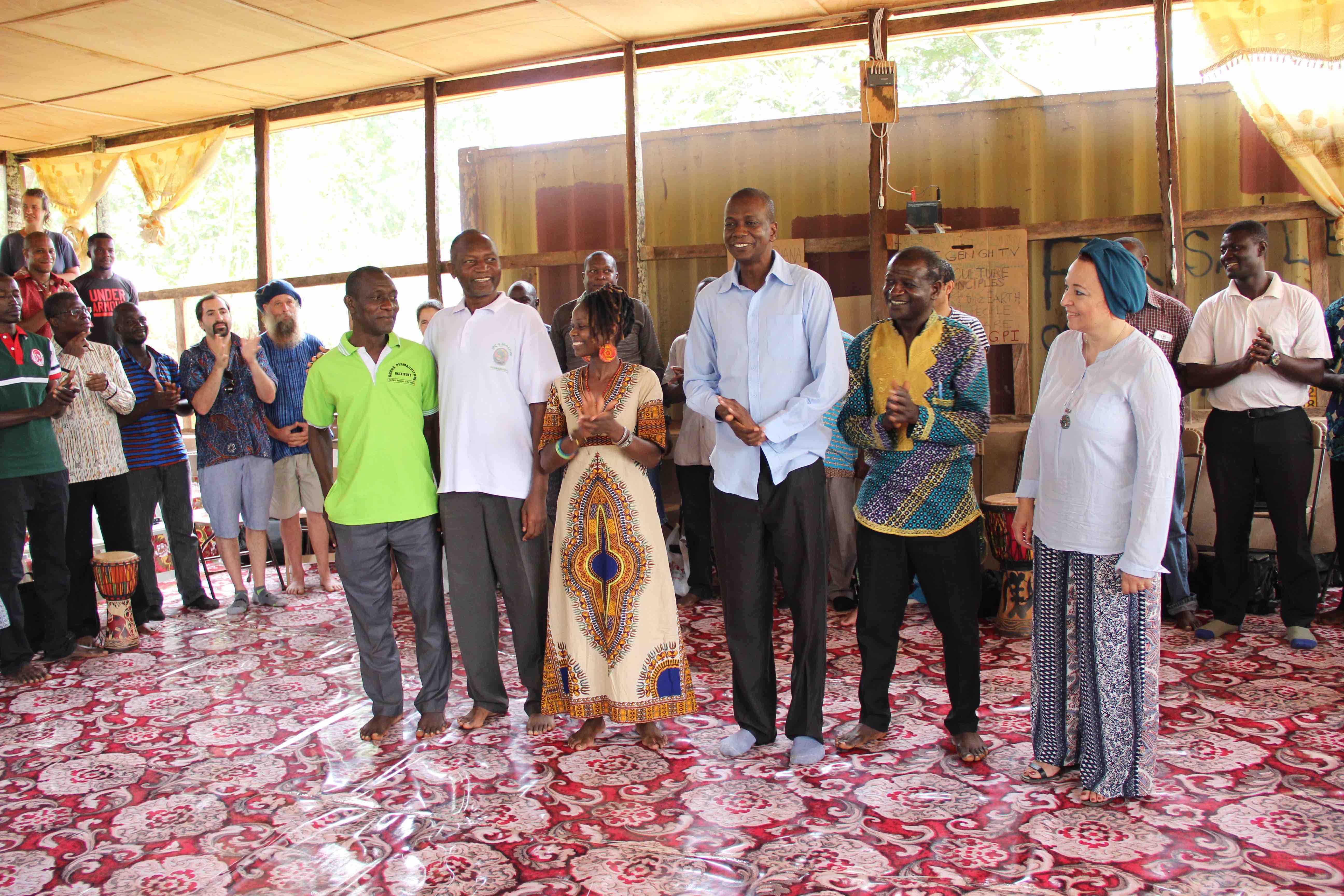 Council Members:
Paul Yeboah
Paul is the founder of Ghana Permaculture Institute / Ecovillage and has actively and consistently worked in development for the past 10 years. He has extensive knowledge of community participation and development, and the coordination and management of Permaculture projects and programmes. He has reclaimed 30 acres of land in Brong Ahafo Region in Ghana which is being used as as a Permaculture Demonstration site and has set up indigenous tree nurseries in numerous communities in Ghana. He has also established composting systems in all the communities to manage waste and to improve soil fertility in their farms to increase their crop yield and has also installed alley cropping systems, nitrogen fixers and cover cropping to restore nature.
Mugove Walter Nyika
Mugove is a Permaculture and Environmental Education specialist with international experience of working with governmental and non- governmental organisations to build resilient school and college communities. His mission is to use his life skills, land use design skills and passion for culture and the environment to listen, encourage and teach everyone, especially children, to be empowered to look after themselves and the environment for the common good. In 1997 he facilitated the setup of the Schools and Colleges Permaculture (SCOPE) Programme within the Curriculum Development Unit of the Zimbabwe Ministry of Education and worked with over 200 schools across the country. The fruits of this work led to the establishment of the Regional SCOPE (Rescope) Programme, based in Malawi but which now works in several countries in east and southern Africa.
Linda Kabaira
Linda Kabaira is a young Zimbabwean, well versed in project management with a strong commitment to serving the needs of disadvantaged communities. She has worked for over 12 years in the development and humanitarian fields, with the vision to improve the quality of life for Zimbabweans, Africans, women and youth and with a specific focus on capacity building for vulnerable communities and individuals. Linda is currently working as a Coordinator for the Zimbabwe Institute of Permaculture – Schools and Colleges Permaculture Programme (SCOPE).
Ousmane Pame
(President of GEN Africa)
Ousmane is currently an Associate Professor of translation, British civilisation and literature. He worked as a coordinator of several American Universities Study Abroad Programmes at the West African Research Centre (Dakar, Senegal). Between fall 2007 and fall 2010, he worked at the Dakar Earth Rights Ecovillage Institute, as the resident academic director of Living Routes. He is also a founding member of the Association for the Research and Promotion of Intercultural Exchanges (ARPI). In the past 10 years, Dr. Pame has been actively involved in development projects in his native Fouta (Nothern Senegal) and supporting deprived schoolchildren in his rural area through distributions of free school materials and classroom constructions. Since 2009 he is the Mayor of the Eco-town of Guédé Chantier (www.guedechantier.com).
GEN-Africa Advisory Board
Kosha Anja Joubert
(GEN Africa Advisor from UK, Executive Director GEN International)
Kosha Joubert, MSc serves as Executive Director of the Global Ecovillage Network. She has many years of experience as an international facilitator, trainer, and consultant and has worked extensively in the fields of community empowerment, intercultural collaboration and sustainable development. Kosha grew up in South Africa under Apartheid and has been dedicated to building bridges across divides ever since. She has lived in ecovillages for the past 25 years. Kosha is also a co-founder of Gaia Education, which develops trainings at the cutting-edge of sustainability, and co-author of the internationally applied curriculum of the Ecovillage Design Education. In 2016, Kosha received the Dadi Janki Award – 100 Women of Spirit – For engaging spirituality in life and work and for making a difference in the world. You can see her TEDx Talk on Ecovillages here: www.tinyurl.com/tedtalkkosha
Adama LY
(GEN Africa Advisor from Senegal; Secretary General of GEN-West Africa)
Adama LY is an expert in social forestry and sustainable rural development including Integrated Ecosystem Management, Climate Change and Sustainable Land Management. He also served as the first Director General of Senegal's National Ecovillage Agency (ANEV).
In 2010, He won the GEN-Europe Ecovillage Excellence Award. In 2011, Adama launched in Senegal the first regional EDE in French with GENSEN members and continues to reach more and more activists today. Currently he is a National Coordinator of the Sub-regional Fouta-Djallon Highland (FDH – www.fouta-djallon-programme.org).
Dr. Abdourahmane Tamba
(GEN Africa Advisor from Senegal)
Dr Tamba is a biologist especially qualified in algology. Deeply passionate and convinced in the potential of natural medicine, Abdourahmane focused to transmit his passion and knowledge as a teacher and researcher and has managed a 4 year research on natural products in Senegal. He holds numerous patents including water, human and animal nutrition. For over 10 years Abdourahmane led a Seaweed promotion program for Senegal and manage several conferences and reports on the development of algae. In 1992 he was designated as the Program Advisor for the Sahelian Environment Education Ministry of National Education in 1992. Abdourahamane was decorated in 2005 by the Gold Medal for Excellence in Business Practice (by the Foundation of Excellence in Business Practice in Geneva). He has also received a Research Award for Private Sector awarded by the Vétiver Network. Due to his active participation in the development of the "Petite Côte" in Senegal, Abdourahmane was elevated to Honorary Citizen of the city of JOAL.
Today Adourahmane is the executive Secretary of SOS Environnement (Senegalese NGO member of the CRDI (www.sosenvironnement.typepad.com) – and a member of the African Network for the promotion of plant biodiversity.
Dr Trinto Mugangu
(GEN Africa Advisor from DRCongo)
Dr Trinto is an environmentalist licensed in Zoology, Ecology and Conservation of Nature. Qualified in Management of Communication, Training and Development, Trinto has done many fundraising projects for Congolese organisations but also Senegalese, Nigerian and Cameroonian, mainly for National Park and forest protection. Trinto has completed several researches on sustainable land use management and conflict resolution between Congolese communities. He envisions supporting development initiatives for the preservation of the biodiversity and capacity building.