Secretariat Main Staff and Support Staff
Regional Coordinator
Kwame Ansah Baffour
Kwame Ansah Baffour believes that success comes from good human relationships, strong partnerships and the ability to think inside-out of the status quo to make positive things happen. He is a product of the University of Hohenheim, Germany, Kwame studied MSc. in Agricultural Economics and returned to Ghana after graduation to contribute to development programs in Ghana and Africa. Upon his return to Ghana, he contributed to the successful implementation of the 1st and 2nd Ecovillage Design Education in Ghana at the Kumasi Institute of Tropical Agriculture and the Ghana Permaculture Institute respectively in the year 2016. Kwame's leadership as a national coordinator for the Global Ecovillage Network – Ghana (GEN – Ghana) since 2016, GEN Ghana made a rapid progress than its counterparts in Africa and now serves as a model for emerging national networks in Africa. Kwame has many years of experience in organizational development, project management, product development, research and fundraising through his work as a business development officer for the Kumasi Institute of Tropical Agriculture and as a national coordinator for GEN Ghana. Kwame's doors are always open and he enjoys making people smile. He is currently the Regional Coordinator for GEN Africa.  
Executive Secretary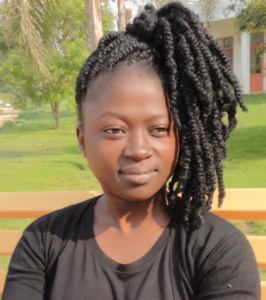 Sonita Mbah is combining an M.Sc. in EcoSocial Design with Gaia University while representing the youth branch of GEN Africa (NextGEN Africa). A Cameroonian with a background in English Literature and Sustainable Hygiene and Sanitation, she has earned certificates in Permaculture Design and Ecovillage Design Education.
Sonita is a facilitator and trainer at the Better World Cameroon Ecovillage (www.betterworld-cameroon.com) where she has dedicated the last four years to reconnecting young people with the land and youth entrepreneurship and exchange related to climate change adaptation.
Sonita is also a peer mentor for Gaia University Associates. She is passionate about food security, cultural heritage, and green economy as possible solutions to the growing rate of unemployment in rural Africa.
Financial Secretary
Katere Charles
Charles is born in New Longoro, Kintampo North District in Brong Ahafo region of Ghana. He is a bookkeeper and a Permaculturist. He has 5 years of experience in bookkeeping from 2014 to 2018. He attained his permaculture diploma in Ghana permaculture institute, in the year 2015 and Ecovillage Design Education Certificate in 2016 and he currently holds a BSc in Accounting, etc.
He is a conscientious and hardworking individual and has proven skills in conducting, teaching, facilitating and handling financial issues, conservative agricultural research, community participatory and development, teaching permaculture principles and designing, facilitator of Eco-village modules, and assisting general agricultural crop and livestock production efforts. He takes delight in projects that have the potential of sustaining the natural environment whiles improving the living standards of most people especially the poor in society.