Co-funder of Papillons Voyageurs & GEN Ambassador
Traveler of the world who made the choice to open his mind and heart to the wisdom of Mother Earth, slowly finding his place and path to regenerative actions.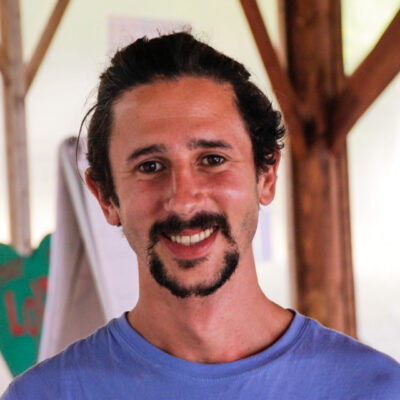 My regenerative journey began in 2018 with the organisation an animation of specialized courses in the growing field of permaculture. The main purpose of these activities was to improve the relation we have with ourselves, with the other living beings, with mother nature. This process took me to systemic design, agroecology, bioconstruction and community building workshops, discovering how to regain autonomy and freedom, understanding how people can transform the world through their own transformation, myself as first ! Currently living in a community in the south of France named Lou Neïssoun, I joined GEN as ambassador in 2020 and co-organized in 2021 the first Ecovillage Design Education course held in France at Sainte Camelle, now preparing the next edition !
Passionate with the living world, as a permaculture designer I currently work on several innovative projects to experiment regenerative solutions applied to local context. One of them is the seeding of a syntropic agriculture edible forest in a Mediterranean context as a way to address the challenges we are facing regarding water management, food sovereignty, economical resilience, soil erosion and the evolving role of a farmer in a healthy ecosystem. My intention is to keep supporting actions that help humanity to align with the planet's balances and to allow all life to be respected and valued as is it, a miracle!
Primary interests: music, martial art, trees, hiking, dragon dreaming
Events & Trainings held by Michael Gauthier
Date: 1 – 29 October 2023
Language:
Location: Ecovillage Sainte Camelle, Lieu-dit Sainte-Camelle, Saint Victor Rouzaud, 09100, France
D'une durée d'un mois en octobre 2023, le cours d'Éducation au Développement d'Écovillage que nous proposons est rythmé par les quatre grandes thématiques de la roue de la régénération : Sociale, Culturelle, Écologique, Économique, unifiées par une dimension Systémique qui articule harmonieusement l'ensemble. L'équipe organisatrice de cette troisième édition de l'EDE en France a choisi de mettre l'accent sur une vision qui intègre les intentions de ses membres : "Vers une culture résiliente … Read more
Site content by Michael Gauthier
Events
Date: 1 – 29 October 2023
Language:
Location: Ecovillage Sainte Camelle, Lieu-dit Sainte-Camelle, Saint Victor Rouzaud, 09100, France
D'une durée d'un mois en octobre 2023, le cours d'Éducation au Développement d'Écovillage que nous proposons est rythmé par les quatre grandes thématiques de la roue de la régénération : Sociale, Culturelle, Écologique, Économique, unifiées par une dimension Systémique qui articule harmonieusement l'ensemble. L'équipe organisatrice de cette troisième édition de l'EDE en France a choisi de mettre l'accent sur une vision qui intègre les intentions de ses membres : "Vers une culture résiliente … Read more
Date: 1 – 30 October 2022
Language:
Location: Ecovillage Sainte Camelle, Lieu-dit Sainte-Camelle, Saint Victor Rouzaud, 09100, France
A short history about the highlight of the second edition of an incredible EDE in France ! … Read more
Date: 4 October – 4 November 2021
Language:
Location: Ecovillage Sainte Camelle, Lieu-dit Sainte-Camelle, Saint Victor Rouzaud, 09100, France
We had to wait 2021, against all odds, to see the very first French EDE. How come it was only the 1st? Why never before? Well, we know why. FHF. This is why making an EDE in France was a tough challenge to take on. And yes, we did it! The group of participants we had for this EDE was so diverse that no clan emerged. It is quite usual that people gather by affinity in small groups but here, the entire group stuck together no matter what. The glue was really strong. Some personalities were … Read more