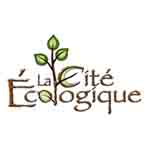 La Cité Écologique is located in a beautiful rural area of the province of Quebec in Canada. The property covers 700 acres of land, 100 of which produce different kinds of crops. All our property has been protected from chemical products (chemical fertilizers, pesticides, herbicides, etc.) for more than 35 years now. Near 100 people live on the property, participating in different ways to the school and working within the ecovillage's businesses. Education is offered on-site from kindergarten to graduation and can even continue after within the ecovillage's activities.
On-site businesses support the same ideologies and values as those associated with our school. Consequently, parents perform their daily work while practicing friendly procedures for resolution of conflicts, kinship, respect, recycling, etc. In that sense, they are role models for their children.
Visitors, students, and interns are welcome through the learning center (www.capecocommunautaire.org)
Be sure to make previous reservations.
Membership & Visitors
Current members: 95
Open to new members
Open to visitors
Participate in a visit, then join our internship and/or training, afterward you can present your request to the community. Details can be found here: www.citeecologique.org/en_US/accueil/devenir-membre and via email.